Is there a week that goes by when Russell Simmons doesn't do something awesome for animals? (Answer: no.) This week, the hip-hop mogul and PETA's person of the year asked New York Gov. Andrew W. Cuomo to drop unhealthy milk as New York's state beverage.

Major League Soccer MVP Dwayne De Rosario, who has been vegan since he was 14, should be on board—he shook up Millions of Milkshakes with his own vegan creation.
Best wishes to another MVP, Baltimore Ravens running back Ricky Williams, who is retiring from the sport. We're sure that our MVP of animal rights isn't retiring from helping animals.
We hear that guests at vegetarian beauty Anne Hathaway's engagement party enjoyed delicious, cruelty-free fare, including vegan burgers and cupcakes.

Planning your own vegan wedding? Check out our animal-friendly tips for the big day.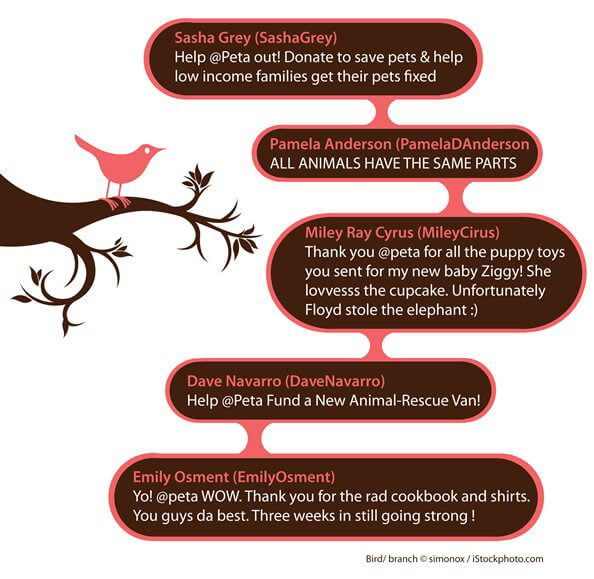 In the latest issue of Marie Claire, PETA anti-fur star Eva Mendes does more than just grace the cover with her beauty. In the spread, Eva talks about ditching meat and the benefits it's brought to her life. Check out our free vegetarian/vegan starter kit to find out how vegetarian meals can be great for you and animals!

PETA's favorite vampire, Kellan Lutz, is helping PETA purchase a new rescue van for our Community Animal Project. The star has also asked all his Twitter followers to help too.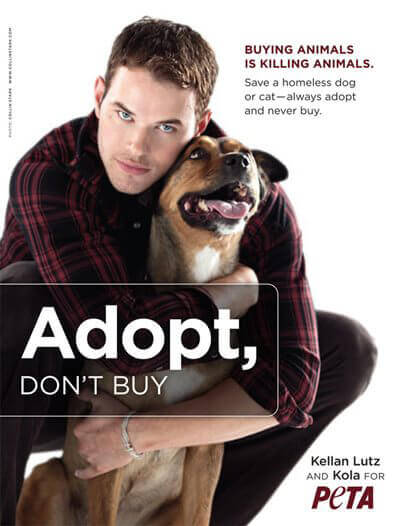 Photo: Collin Stark www.collinstark.com

Rock 'n' roll legend and legendary champion for animals Chrissie Hynde is urging Ohio to enforce its ban on the use of electric prods and similar devices on animals when Ringling and its bullhook-wielding "trainers" come to the state.
And Daniel Tosh was Tosh.Oh-so-sweet this week when he blasted cruel bull runs on his show.