The infamous Oregon National Primate Research Center (ONPRC) has been cited again for violating the federal Animal Welfare Act (AWA) following an inspection by the U.S. Department of Agriculture (USDA) that discovered that the facility was confining a baboon to a cage so tiny that it failed to meet the already dismal cage-size requirements of the law. The cage was so small that the animal couldn't even sit up straight inside of it.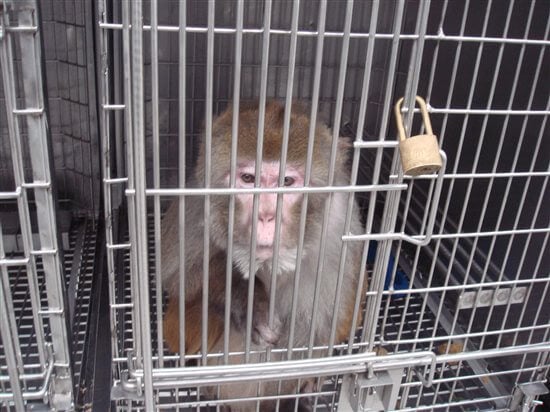 A Solution That Doesn't Solve Anything
ONPRC "corrected" its failure by giving the baboon a cage that was just 4 inches larger, thus making the imprisonment acceptable in the eyes of the USDA under the paltry AWA. Yet he is still confined by himself. Research has demonstrated that 90 percent of individually caged primates exhibit stress-induced abnormal behavior, such as incessant pacing, rocking, and even self-mutilation.
What makes this latest finding especially shameful is that ONPRC has been repeatedly cited for violating the AWA—last year alone, the center had to pay nearly $12,000 for its pattern of violations that PETA helped expose—yet it's still allowed to operate and collect tens of millions in taxpayer dollars every year, breaking the laws of the land and of simple decency.
What You Can Do
It's time for Oregon Health & Science University to follow the example of Harvard University, which recently announced the closure of its own primate center, and shut down the disgraceful ONPRC. Please urge your federal legislators and officials at the National Institutes of Health to divert public money from cruel animal experiments into humane and superior clinical and non-animal research.