Photo Credit: Patricia Schlein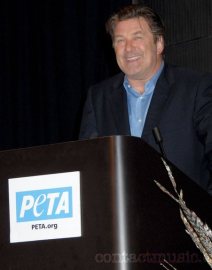 Last night was another red-carpet moment for animals. Alec Baldwin hosted the premier screening of Blinders—the latest documentary to give viewers a critical inside look at the inner dealings of the horse-drawn carriage industry. Director Donny Moss exposed the archaic industry for what it is—a living hell for horses. Forced to spend their days breathing in exhaust fumes, walking on hard pavement, and risking their lives because of weather extremes and idiotic NYC drivers that somehow passed their driver's tests, these horses are prevented from doing anything that is natural and important to them. Moss began to record the daily lives and living conditions of horses pulling carriages in and around Central Park after noticing the onslaught of recent injuries to horses in the carriage industry.
Says PETA President Ingrid Newkirk of the documentary, "From the stench inside the horses' minuscule stalls, where horses sleep standing up in piles of their own waste, to the hostile streets of Manhattan, where horses live a nose-to-tailpipe existence, Moss doesn't blink in documenting how horses live long after tourists' 30-minute rides are over."
Chrissie Hynde, Pink, and Lea Michele have all thrown their support behind a carriage-horse-free NYC; now it's your turn. Throw your blinders in the trash and jump on the bandwagon … so to speak, of course.
Posted by Jennifer Cierlitsky