I strongly believe that as long as one form of prejudice exists, no form of prejudice can be completely eradicated. As PETA has always said, "animal liberation is human liberation." If you teach someone to be kind, it has a knock-on and wide-ranging effect.
So, while we may not be able to stop all the ugly acts in the world, this powerful ad reminds us that we needn't feel helpless in opposing violence that's truly close to home. We may not achieve peace in our lifetime, but we can start by aspiring to achieve "peace in our dinnertime." Each of us can seize our personal responsibility and power to embrace non-violence and respect others every time we eat, simply by choosing vegan foods. And do not think that this is a small act. To the living being whose life was saved, it is everything.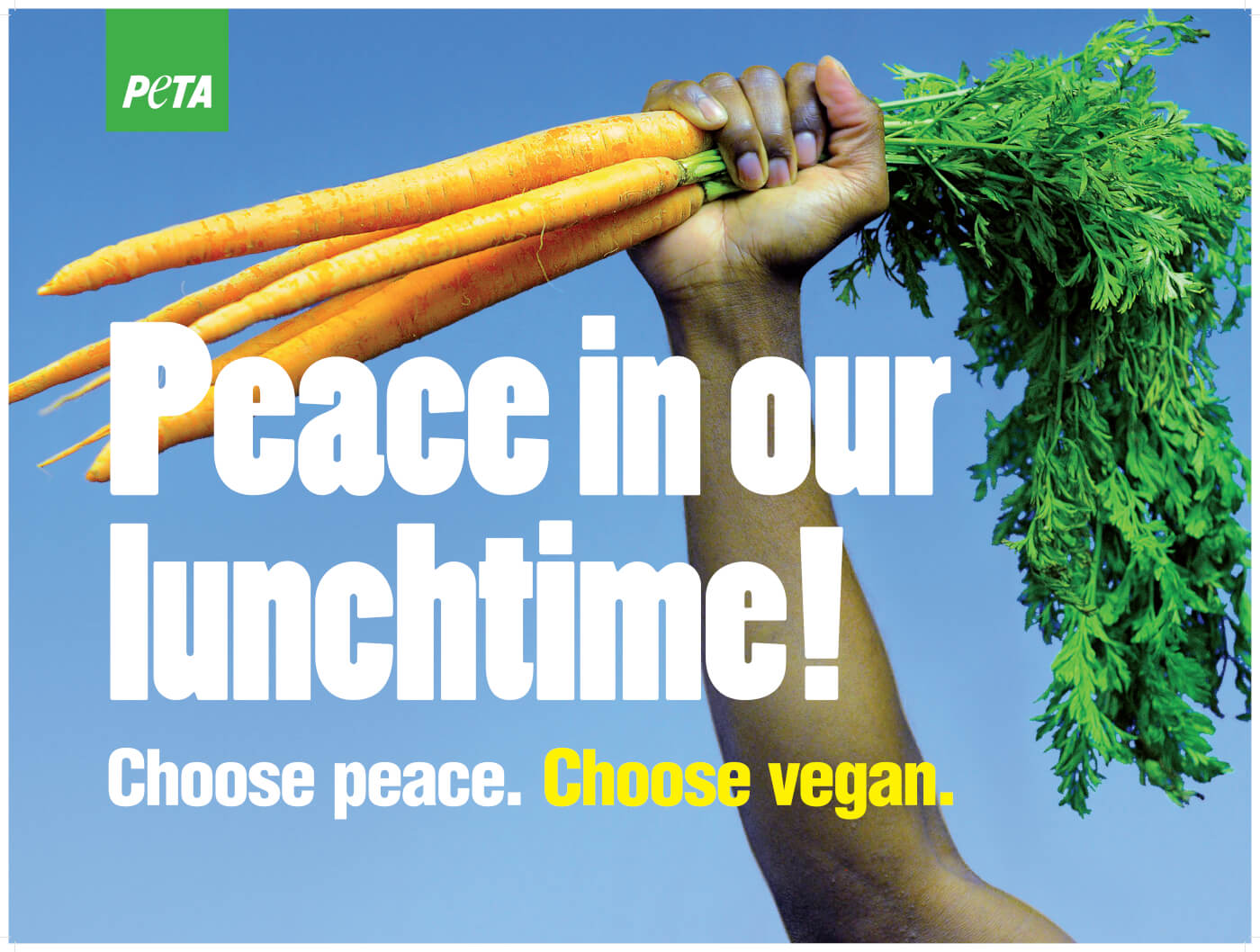 We all know some of the details: that the victims of a meat and dairy diet spend their lives crammed into tiny and filthy cages or pens with barely, if any, room to move even one step—they are deprived of a life before their lives are ended at the knife. USDA inspections and undercover reveal that chickens and turkeys often have their throats cut while they are still conscious. Pigs have their teeth, tails, and testicles cut off without any painkillers. Cows are often skinned alive, and fish—who are not swimming potatoes, but living beings who feel pain—are cut open while still conscious.
The great peacemakers, many of whom were vegetarians or vegans, embraced this ideal. Everyone knows that Mahatma Gandhi followed a nonviolent diet and spoke out against stealing animals' lives for a fleeting taste of flesh, one of his many good lessons.
Coretta Scott King, the widow of the great American civil rights activist, Martin Luther King Jr., stopped eating meat and became a vegan, because she believed that becoming an advocate for animals was the "logical extension" of her husband's belief in nonviolence.
The Nobel Laureate Isaac Bashevis Singer, whose family fled genocide in Nazi-occupied Europe, became a vegetarian when, from the window of his rented room, he viewed cattle in shackles being beaten down a ramp to their deaths.
And Leonardo da Vinci said, One day, the murder of beasts will be looked on in the same way as the murder of men." Let's make that day today.
Let's open people's hearts to those who pose no threat whatsoever—the lambs, and cows, and chickens, and others who happen not to have been born human—and save them from the slaughterhouse. By showing compassion for all beings regardless of race, religion, gender, or species, we can make good on our stated desire to help reduce pain and bloodshed in the world.
Have you read Free the Animals? It's the amazing true story of the animal liberation front! It reads like a suspense novel, with riveting accounts of daring animal rescues from vivisectors, fur farms, and food factories. It's a book you won't be able to put down—or forget.