How would you feel if a human being were stuffed, roasted, and served for Thanksgiving dinner? That's the question PETA asked Hamilton, Ontario, residents to consider as a PETA volunteer took to the streets to lie nude in a "trussed up" pose beside two giant "turkey carcasses" on top of a cutting board with a meat cleaver.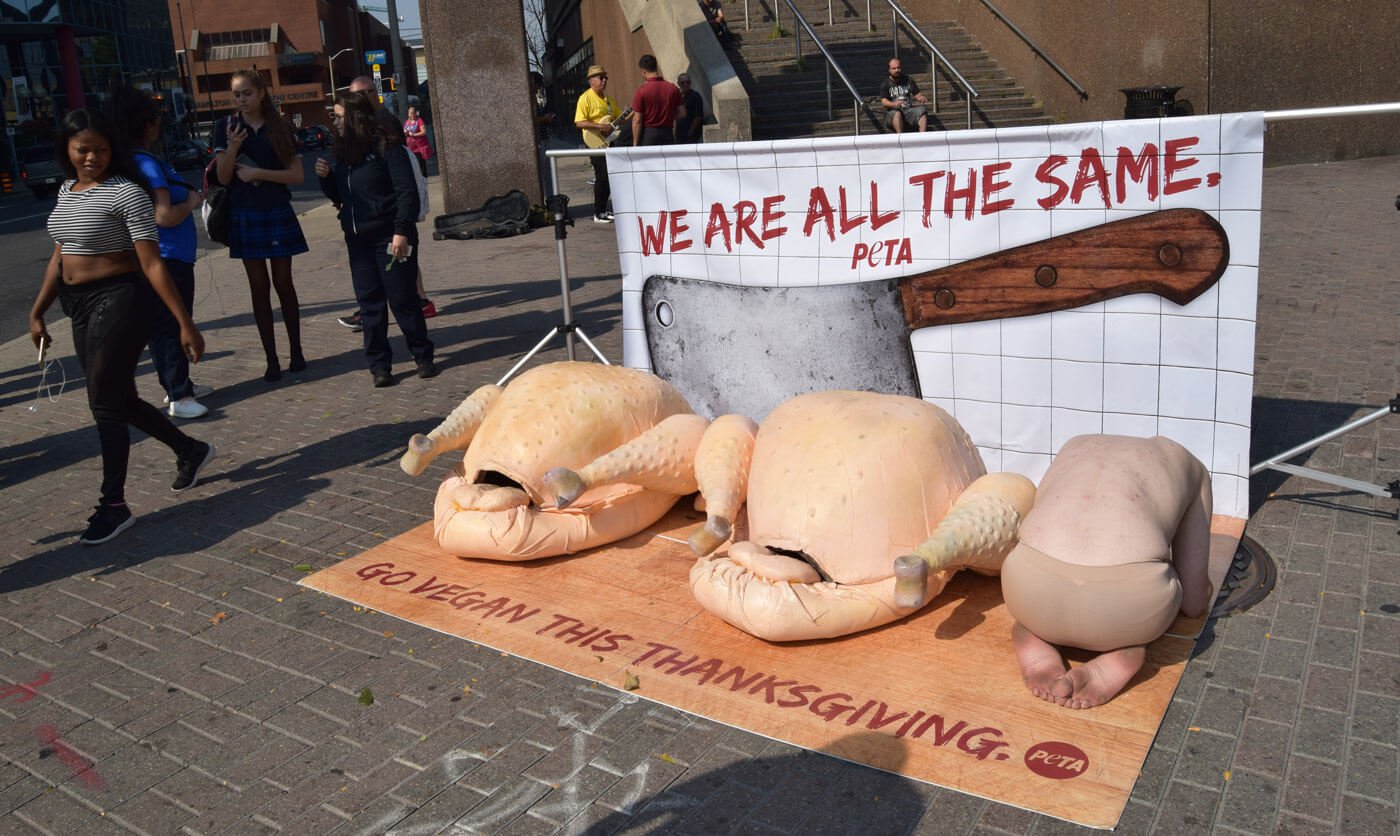 Yesterday's grisly scene included a banner that read, "We Are All the Same. Go Vegan This Thanksgiving." PETA supporters aided in the effort by passing out free Tofurkys and vegan starter kits to passersby.
All of us have flesh, organs, and feelings, and none of us wants to die violently for someone else's meal. PETA is calling on caring people to give turkeys a break this Thanksgiving and make their holiday table a place of compassion for all beings.
Every year, billions of animals' bodies are chopped up, labeled, and wrapped in cellophane to be sold in the supermarket meat case. Turkeys are sensitive, smart animals who have the ability to feel pain and who form bonds with friends and family members when given the chance. Factory farms deny animals everything that's natural and important to them, confining them to filthy, cramped cages, stalls, and sheds—where a steady diet of drugs keeps them alive only long enough to be sent to the slaughterhouse.
This Thanksgiving, Give Turkeys Something to be Thankful For
Thanksgiving can be the scariest time of year if you're a turkey. More than 45 million of these fascinating birds are killed to disgrace tables at this time each year. In the video below, one honest little girl tells it like it really is—for turkeys—when she's asked to say grace around her family's dinner table.
This Thanksgiving, how about ditching the dead bird? Click the button below to discover 16 vegan main dishes that taste as delicious as they look—and don't kill any animals.