Vegan fashion brand NOIZE has shown the world how fashionable it is to have compassion for animals. Now, it's teaming up with PETA to launch a new display in the heart of Montréal's Eaton Centre, just in time for fall and winter shopping. We're asking shoppers to say no to items made with leather, down, wool, and fur—all of which are cruelly obtained materials that animals are killed for.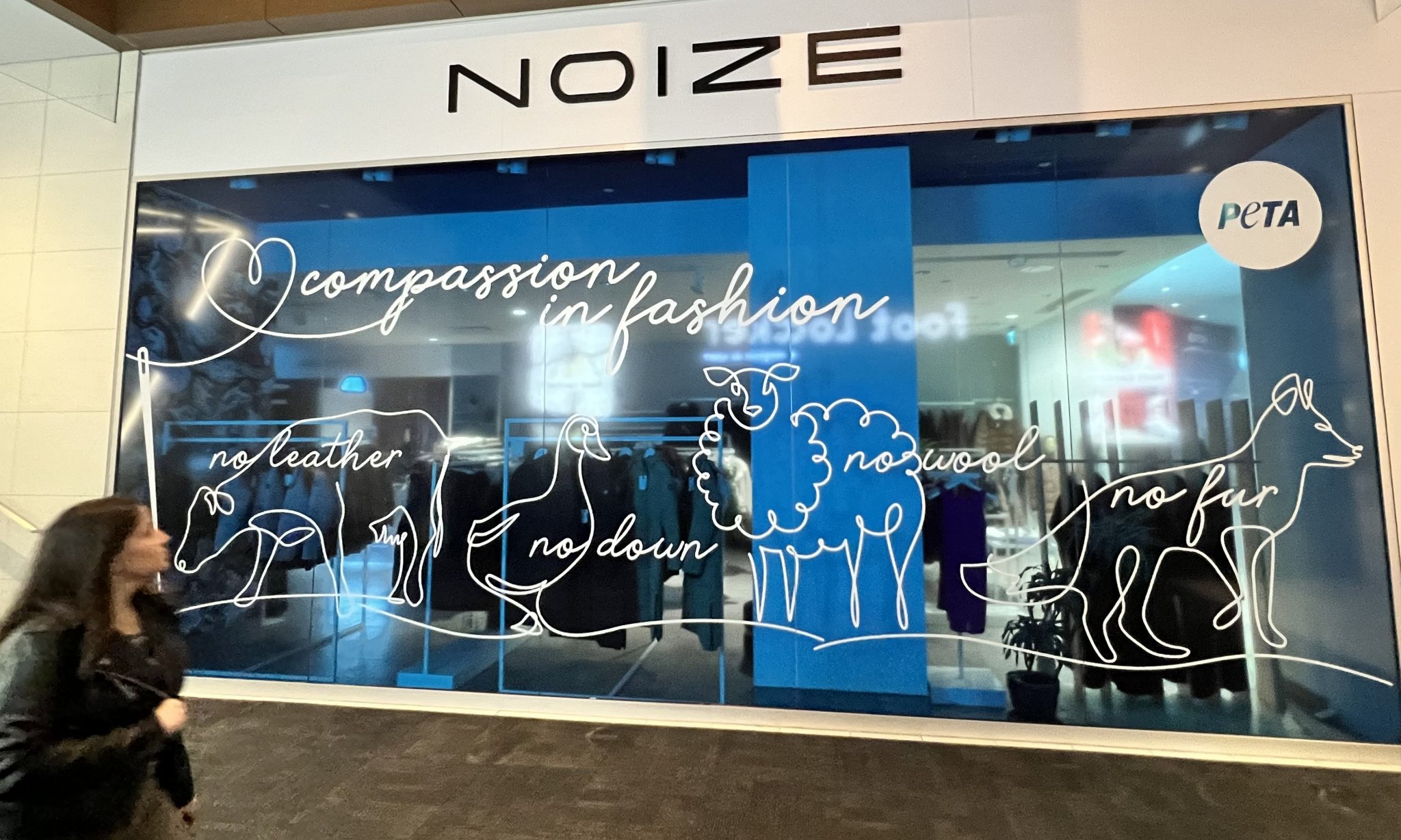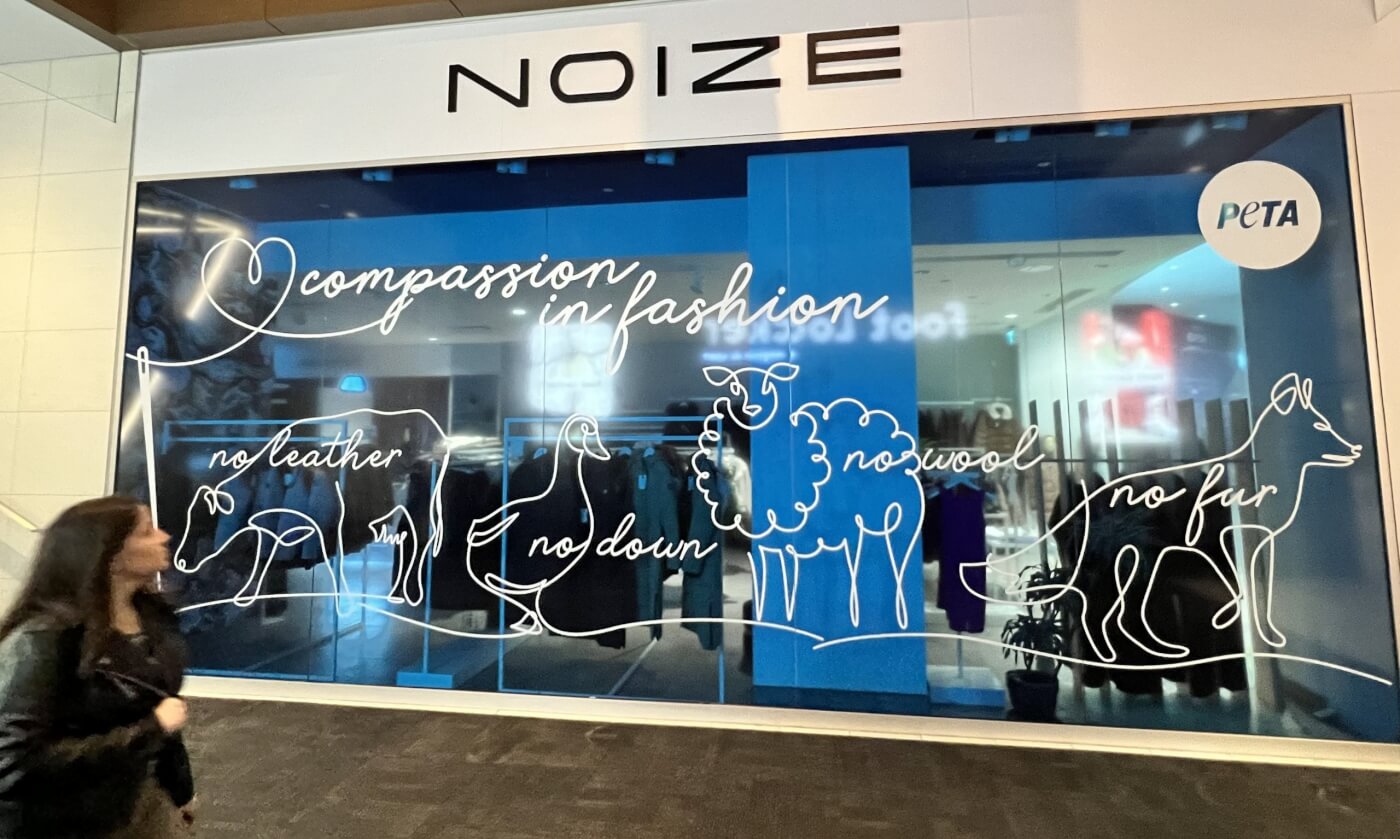 Why You Shouldn't Buy Leather
Numerous investigations by PETA entities worldwide found that cows are routinely beaten and electroshocked. Using cows for leather causes extreme suffering, and it's unnecessary: More and more eco-friendly leather options made out of grapes, apples, cacti, and recycled bottles are hitting the market.
Down Is Cruelly Obtained—Stay Warm With a Compassionate Option
Birds suffer immensely when imprisoned by and eventually killed in the down industry. Many geese are plucked alive—workers tear the feathers from their sensitive skin multiple times throughout the animals' short lives. The birds shriek as they're restrained, sometimes with a human's entire bodyweight pressing on their delicate necks. Many brands now offer recycled polyester, down made from flowers, and other high-performance feather-free insulators that don't harm animals.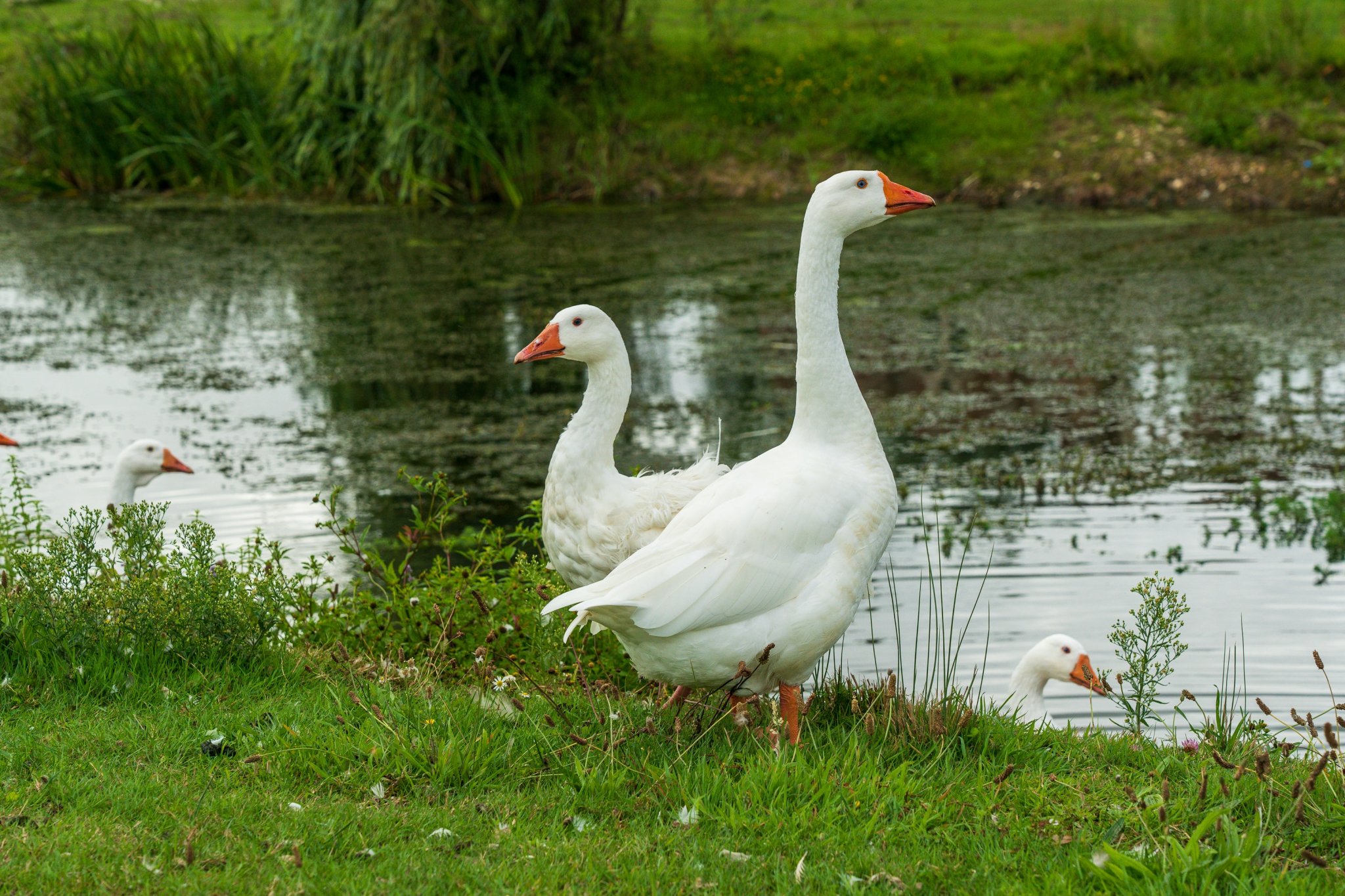 Here's Why Wool Isn't Cool
Investigators from PETA entities have visited shearing sheds around the world, and no matter what those operators claimed about welfare standards, extreme abuse of sheep is rampant in the wool trade. Video footage—compiled in 14 exposés of 117 wool industry operations on four continents—shows gentle sheep being beaten, stomped on, and kicked, including in the face. We can stay warm in vegan textiles, such as organic cotton, flannel, Tencel, and even recycled plastics.
Suffering Is Never Stylish—Here's How Vegan Fur Saves Lives
Whether it came from an animal on a fur farm or one who was caught in nature, every fur coat, trinket, and bit of trim caused an animal tremendous suffering—and took away a life. Animals on fur farms spend their entire lives confined to cramped, filthy wire cages. Fur farmers use the cheapest and cruelest killing methods available, including suffocation, electrocution, gas, and poison. Coyotes caught in painful steel-jaw traps have been known to attempt to chew off their own legs to escape. Don't contribute to this torment—only ever buy vegan fur.
---
NOIZE knows how vile all of these materials are and how bad they are for the environment, so this fashion-forward apparel brand uses sustainable, animal-free options—such as eco-friendly recycled fabric, ECONYL's reclaimed nylon, organic cotton, algae-based material, hypoallergenic vegan wool, and many more "PETA-Approved Vegan" components—instead.
You can help animals by urging fashion brands like Urban Outfitters to ban leather, feathers, wool, fur, and all other materials that are unfriendly to animals: