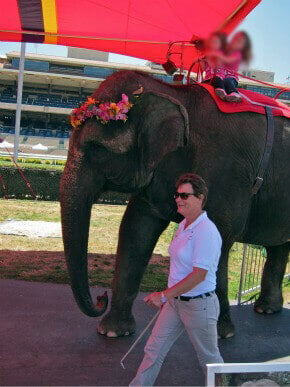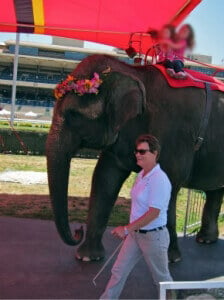 Elephant profiteer Have Trunk Will Travel has thrown in the towel this year: It will not provide elephant rides at the 2014 San Diego County Fair.
At the urging of PETA and other groups, the L.A. County Fair, the OC (Orange County) Fair, and the Santa Ana Zoo eliminated the cruel and dangerous rides a few years ago, but the San Diego County Fair Board remained resolute, despite our appeals and in the face of overwhelming public condemnation. Perhaps when the board sees how successful and stress-free the fair can be without forcing abused animals to entertain patrons, it will get with the times.
Have Trunk Will Travel brazenly supports "controlling" elephants with bullhooks—sharp metal-tipped weapons resembling fireplace pokers. Bullhooks can leave painful welts, abscesses, and puncture wounds on elephants' sensitive skin.
Elephants with Have Trunk Will Travel endure a miserable life of punishment and extreme confinement, spending night after night chained by two legs, barely able to take a step in any direction. Elephants are highly social, intelligent, and sensitive animals who walk up to 30 miles a day in the wild.
What You Can Do
The state and county fair season is getting underway, and if your local fair contracts with an elephant exploiter, let us know right away.