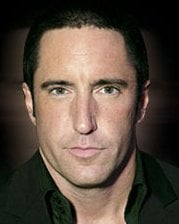 Nine Inch Nails has a brand new album out this week: Year Zero has been getting a lot of love from the critics, and it's awesome to see Trent Reznor back in form. And, of course, we're all big fans of Trent here after he took time out of his schedule to narrate our exposé of the cat and dog fur trade in China. You can watch Trent's narration here, but I should warn you that the footage is tough to deal with.
You've probably heard some buzz about this album already, since Nine Inch Nails has been using this brilliant viral marketing campaign to get the word out about Year Zero. They are hiding USB drives containing the new songs in cities nationwide and using several mysterious websites (like AnotherVersionOfTheTruth.com and ThePriceOfTreason.net) to give fans some new material and the back story to the new album.
I'm always happy to support artists like Trent who use their celebrity to make a real difference. And it helps when they write kickass songs as well. I'm going to have Head Like a Hole stuck in my head for the rest of the day.