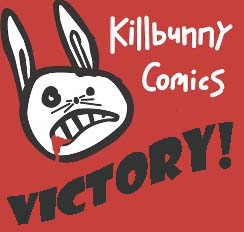 Which, in some ways, why in God's name was a comic-book store selling fur in the first place, but hooray for those early-adopting scene-hoppers over at peta2 for helping to persuade the chain to stop! It's nice to see that they actually do some real work in between hobnobbing with indie-rock icons and droning on about their latest trendy thrift-store "finds".
After peta2 launched their campaign on Monday morning to get the New England music store chain to stop selling animal figurines made from rabbit fur, more than 700 people sent e-mails to Newbury Comics. Within a day, the store's co-owner and founder, Mike Dreese, responded by saying that Newbury Comics has stopped selling products made of fur, and "the last few dozen leftover, unsold pieces [fur figurines] have been removed from our stores this morning."
Hipsters can accomplish so much when they really put their minds to it. Amazing work, peta2, and everyone who wrote in to the company! Give yourselves a big pat on the back, then go out and buy the new Bright Eyes album as a treat.