The National Institute of Mental Health (NIMH) is speaking out of both sides of its mouth when it comes to animal testing. The agency's director has called animal experiments—such as the cruel forced swim and tail suspension tests—all but pointless while continuing to spend millions of our taxpayer dollars on them each year.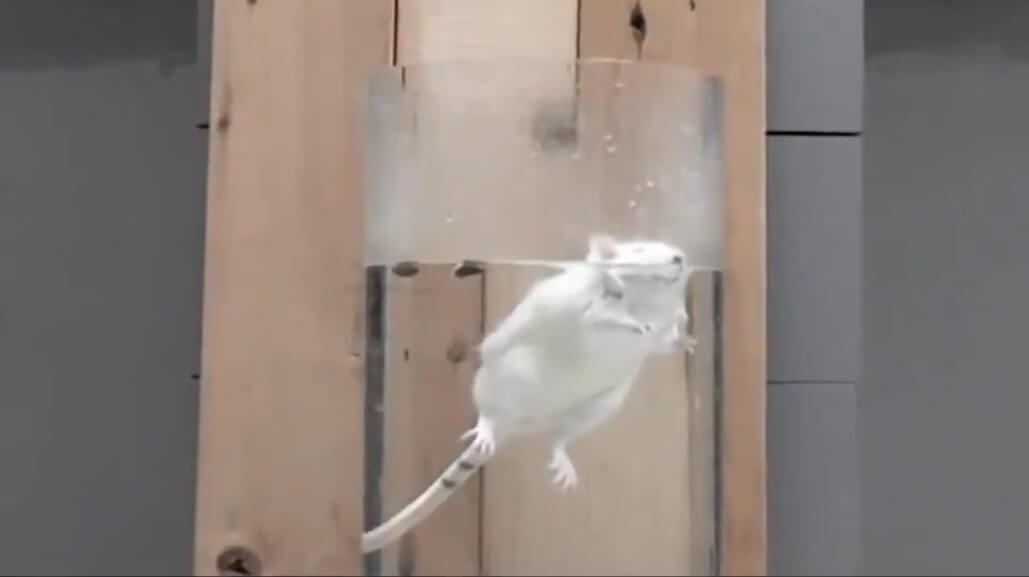 In the widely discredited forced swim (or "despair") test, mice, rats, or other small animals are placed in inescapable beakers filled with water and must swim frantically to keep from drowning. In the tail suspension test, mice are hung upside down by their tails, which are taped to a bar. In the foot shock test, mice or rats are locked inside a chamber with an electrified grid floor and shocked.
In response to PETA's pressure on NIMH to drop the forced swim test and other experiments on mice, Director Joshua Gordon told the prestigious scientific journal Nature that the agency is "discouraging the use of certain behavioral assays, including the forced swim and tail suspension test, as models of depression." He added, "[T]hese tests in particular are recognized by many scientists as lacking sufficient mechanistic specificity to be of general use in clarifying the neurobiological mechanisms underlying human depression." Gordon has also publicly admitted that these animal tests are "terrible," have "wasted time and [money]," have "failed to reveal translatable neural mechanisms" relevant to humans, and "cannot, by definition, capture the full complexity of mental illnesses as seen in humans."
People who work for Gordon agree. Two NIMH program chiefs writing on the agency's website have stated that these experiments on rats and mice are "rarely predictive of human outcomes."
Former NIMH Director Steve Hyman is also very critical of animal testing results for human psychological disorders. He understands that behavior that appears similar in humans and other animals could be based on entirely different underlying biology. For this reason, using drug trials to uncover the explanations for an animal's behavior at the molecular level is completely pointless. Hyman has even called these explanations "anthropomorphic fantasies."
A recent NIMH-funded study also found that the brain cells that communicate with each other—and the brain cells that respond to drugs meant to treat depression, anxiety, and bipolar disorder—are drastically different between mice and humans. This renders animal experiments like the forced swim test and the tail suspension test overwhelmingly worthless since there are "so many [species] differences in the cellular patterning of genes."
This all sounds great, right?
We thought so, too, until Gordon turned around and stated (in the same Nature article, mind you) that NIMH would continue to fund animal testing because it's "crucial"!
NIMH, stop using taxpayer dollars to fund this horror show.
Somehow, experimenters see these bizarre, torturous tests as "models" for attempting to understand complex human neuropsychiatric disorders such as depression and stress. Yes, really. Reliance on these irrelevant tests is consistently cited as a leading reason why so many neurobehavioral drugs fail in human clinical trials.
Let's Help NIMH Set the Record Straight by Demanding an End to Animal Tests
Using our form below, please demand that NIMH stop conducting and supporting these useless tests on small animals and redirect funds to support advanced, animal-free research methods that offer the hope of actually helping human patients.