Samson is one of thousands of beagles whose miserable, lonely existence was documented in PETA's investigation into Envigo's massive breeding factory in Cumberland, Virginia, that previously supplied dogs to the National Institutes of Health (NIH) for experimentation. Dogs like 9-year-old Samson knew only concrete, steel, and the deafening cries of the thousands of other beagles bred to be shipped to laboratories around the world to be tested on. But as the video below reveals, PETA rescued Samson from the dog prison's desolate cages and other horrors. Take a look:
At Envigo, dogs didn't even have names—just six-letter tattoos in one ear.
 While stuck in a cage at Envigo's prison, Samson was used as a breeding machine, reportedly resulting in hundreds of other puppies' births on the factory farm. He shied away from human contact because it often meant that he would be left soaked to the skin when workers sprayed his cage down with a high-pressure hose.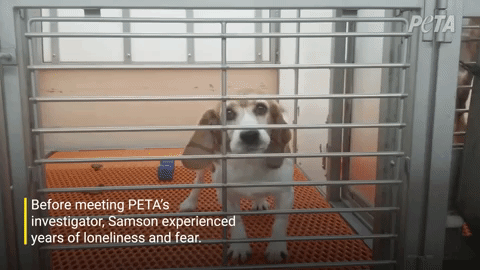 PETA freed Samson from Envigo's cages and experiments, and now he's finally enjoying the good life.
Thanks to PETA's investigator, Samson was rescued just in time to spend his first Thanksgiving in a home with people who show him kindness and respect. He saw snow for the first time and enjoyed his first Christmas with his new loving family.
When he was released, Samson needed urgent care for ear infections and nearly two dozen diseased teeth—but he enjoyed his first plush bed, his first toys, and his first moments of peace and quiet. He is still traumatized and sometimes wakes up barking from vivid dreams, but he's learning how to play with other dogs, sniff out new smells, observe squirrels and birds, and binge-watch TV shows on the sofa as a beloved member of a family.
PETA's groundbreaking undercover investigation into Envigo helped spark a historic domino effect of state and federal legislative and law-enforcement action that paved the way for the remaining thousands of dogs' independence and the beagle factory farm's closure.
In July 2022, a judge approved a plan to transfer all 4,000 surviving beagles at the Envigo facility to shelters for their own chance at adoption. Envigo's surviving victims were given the opportunity to have what every dog deserves—the freedom to enjoy life, love, and respect for their individuality as members of a household, just like Samson.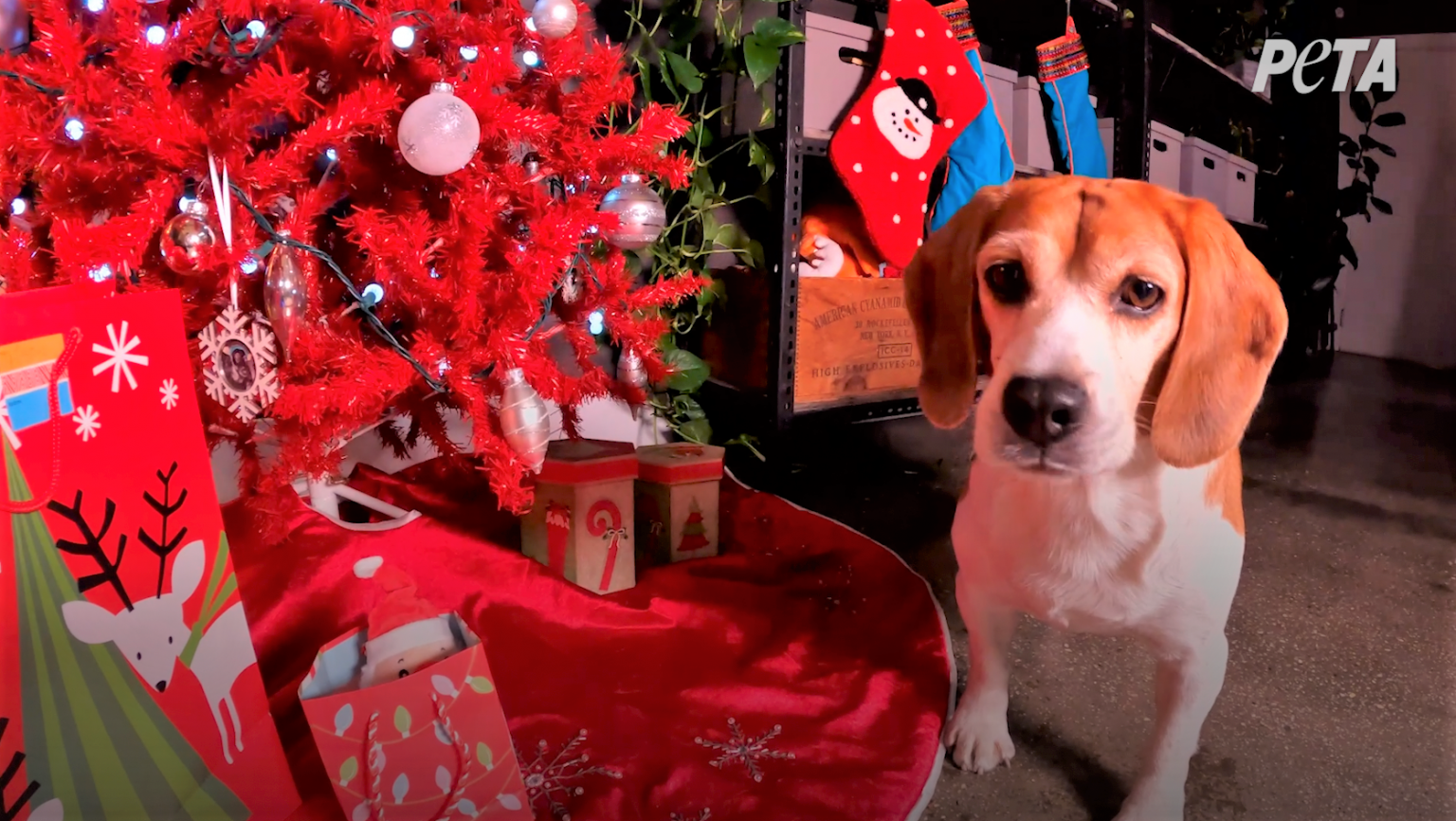 Every one of the dogs at Envigo felt fear, pain, and loneliness, just like the dogs who share our homes. No animal should suffer for experiments or for any other reason. For these beagles and the countless other animals bred for experiments and imprisoned in government laboratories, we must urge President Joe Biden not to hire another "dinosaur" as director of NIH.
---
Click below to urge your members of Congress to pass the FDA Modernization Act, which would remove the requirement for tests on animals, including beagles like Samson, for pharmaceutical testing: