New York City Mayor Bill de Blasio's defense of tigers, elephants, and horses forced to work in New York and his promotion of vegan eating in the Big Apple have earned him the title of PETA's Person of the Year for 2014.
In March, Mayor de Blasio became the first mayor to suspend a circus act, when UniverSoul Circus was temporarily barred from the city for not giving legally required space to tigers and for failing to provide tuberculosis (TB) test results for the elephants it carts from town to town. (Captive elephants with TB can spread the disease to humans.) In explaining its refusal to issue a permit, the New York City Health Department stated, "The animal housing for both species was found to be inadequate to protect the safety of the public and the primary enclosures of the tigers was determined insufficient to allow for adequate freedom of movement."
In September, Mayor de Blasio unveiled a miniature New York skyline carved from vegetables to announce PETA's recognition of New York as the most vegan-friendly city in the U.S., sparking worldwide buzz about healthy, humane eating.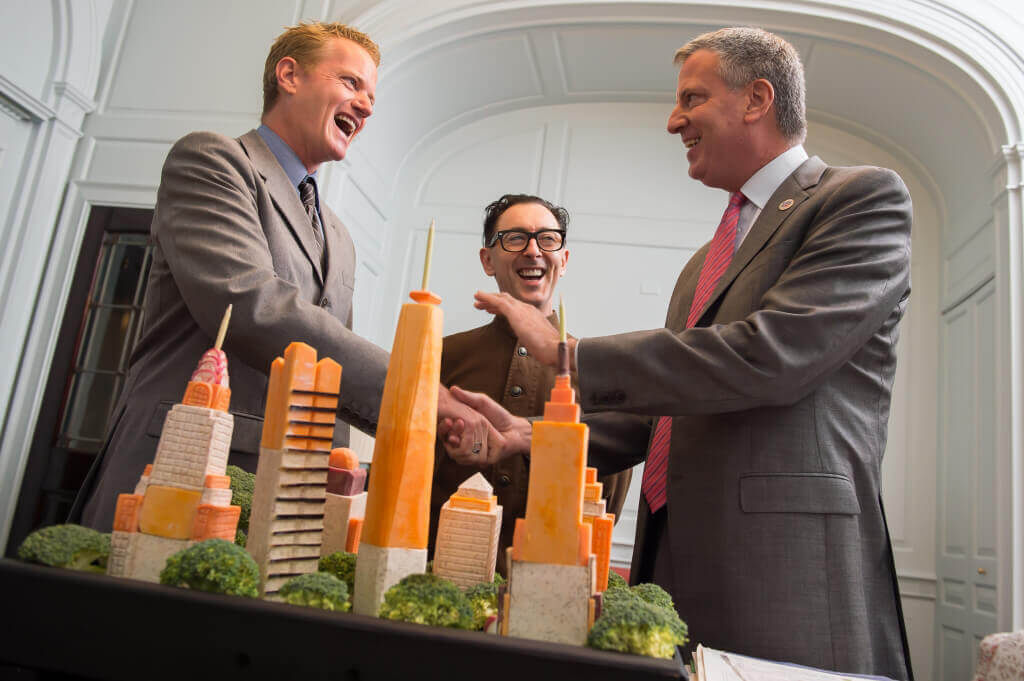 Just this month, New York became the first city on the East Coast to ban the sale of rabbits in pet stores, as part of an effort to prevent the casual acquisition and subsequent abandonment of hundreds of bunnies every year. And despite noisy opposition from special interests, Mayor de Blasio fulfilled his campaign promise to introduce a bill to retire the horses used for carriage rides from dangerous traffic to sanctuaries while helping the drivers find other work. "It's time to end horse carriages in the city and we're going to act on it," he said.
In honor of his work in behalf of horses, PETA presented Mayor de Blasio with a horse statue engraved with "Person of the Year."
"When the mayor of New York City talks, the world pays attention, and Mayor de Blasio's kindness to animals and determination to protect them speak volumes," said PETA President Ingrid E. Newkirk.
Previous PETA People of the Year include Bill Clinton, Oprah Winfrey, Ellen DeGeneres, Tim Gunn, Russell Simmons, Anjelica Huston, and Ricky Gervais.