The Parliament of New South Wales has unanimously passed a motion urging wool producers in the Australian state to provide pain relief when mulesing sheep and to breed for sheep who are less at risk of suffering from flystrike.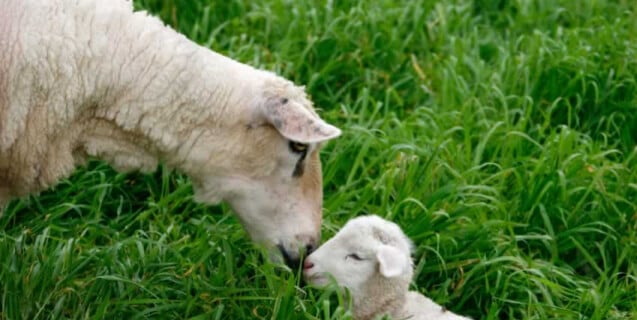 © iStock.com/Jamesbowyer
In Australia, the most commonly raised sheep are merinos, who are specifically bred to have folds in their skin so that they produce more wool. But the folds also collect urine and moisture, which attract flies. In a crude attempt to prevent flystrike, many farmers cut huge chunks of skin and flesh from lambs' backsides with tools resembling gardening shears—often without providing any pain relief.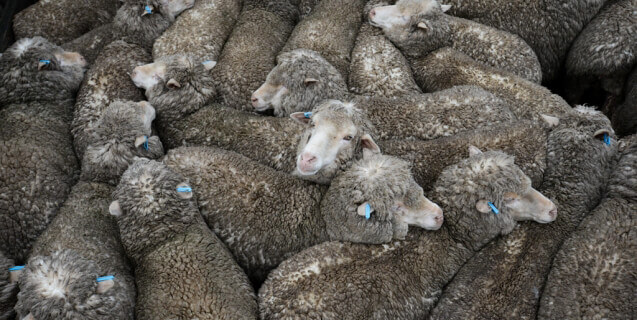 © Jo-Anne McArthur/We Animals
For decades, experts have been saying that mulesing could be completely phased out if Australian farmers would simply switch to "bare-breech" sheep, who have smooth bottoms and therefore are less prone to developing flystrike. And PETA entities worldwide have been calling on the wool industry to stop the barbaric mulesing procedure for years, using provocative protests, eye-catching ads, help from our celebrity supporters, letters to government officials, and more.
Hundreds of thousands of New Yorkers, for example, got an eyeful when PETA put up this graphic billboard on a building in busy Manhattan. The ad raised such a ruckus that the building's owner asked for it to be taken down.
In addition, PETA worked with singer and animal rights activist P!nk to raise awareness of the cruelty of the wool industry: She spoke up for sheep by narrating PETA's video exposé of the wool industry.
PETA entities in Australia and Europe have also held a variety of colorful protests over the years. In New York, for example, a bevy of nude beauties—with the Australian flag painted on their bottoms—protested outside the annual Aussie Ball while PETA members showed video footage of mulesing on body-screen TVs.
And when then–Australian Prime Minister Julia Gillard addressed a joint session of Congress, dozens of PETA members and supporters held a spirited protest at the U.S. Capitol, holding posters featuring graphic photos of mutilated lambs and signs that read, "Gillard: Stop Cruel Mulesing." PETA President Ingrid Newkirk also dashed off a letter to Gillard asking her to spearhead action on this issue.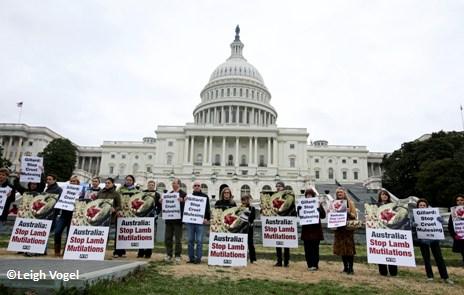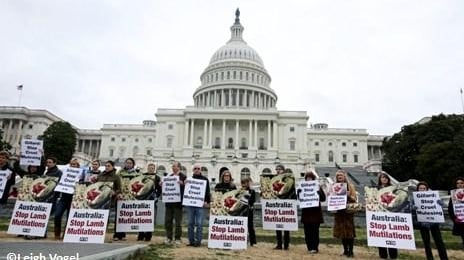 PETA also works behind the scenes to persuade clothing companies to stop using wool from sheep who were mulesed. Following discussions with PETA, dozens of leading retailers—including Talbots, Gap Inc., H&M, L Brands, Liz Claiborne, and Timberland—have pledged not to use wool from mulesed lambs.
Of course, mulesing is far from the only cruelty in the wool industry. PETA's exposés of farms and shearing sheds on three continents have revealed that sheep are mutilated, abused, and even skinned alive for wool sweaters and scarves. So the best way to help sheep is to vote with your wallet: Always choose clothing and accessories made from natural and synthetic fabrics that don't have animal suffering woven into every thread.