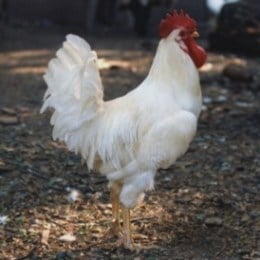 After literally decades of work by concerned citizens and celebrities like Rue McClanahan and Bill Maher and the relentless dedication of Senator Mary Jane Garcia, New Mexico Governor Bill Richardson has signed a bill to ban cockfighting in the state. This was Garcia's 20th year introducing the bill to ban the vicious bloodsport, so this is a massive victory for her, for everyone who worked to raise awareness about this issue, and of course for the countless birds who are forced to fight to the death for the amusement of onlookers every year.
I'd love to say that this means that cockfighting is illegal throughout the United States, but unfortunately there's still one holdout: Everybody's looking at you, Louisiana.
Needless to say, this is pretty huge, and a lot of people have been working really hard to make this happen. If you'd like to take a moment to thank Sen. Garcia for her dedication to helping birds in New Mexico and Gov. Richardson for his compassion in signing this bill into law, their contact info is below. And if you live in Louisiana, you can click here to contact your legislators and ask them (politely) what's the big holdup.
The Honorable Mary Jane M. Garcia
New Mexico Senate
Box 22
Dona Ana, NM 88032
[email protected]
The Honorable Bill RichardsonOffice of the Governor490 Old Santa Fe Trl., Rm. 400Santa Fe, NM 87501E-mail