In February, two PETA staffers volunteering with our Community Animal Project's straw-delivery program came upon a malnourished pit bull caged in a Portsmouth, Virginia, backyard, and living in filth.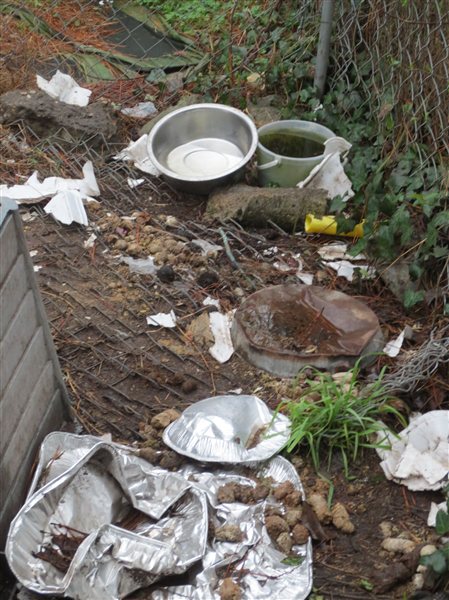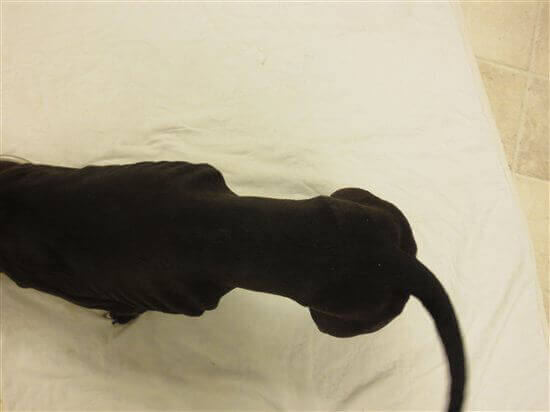 The pen in which Blackie was kept 24/7 was "wall-to-wall" trash, filth, and feces. There was no food, no drinkable water, and no adequate shelter from the elements. A bucket inside the pen contained disgusting, murky, partially frozen rainwater and algae. The only "shelter" available to Blackie on this cold and rainy day was half of a plastic doghouse turned upside-down. The man who identified himself as the person responsible for Blackie told our volunteers that he was looking to "get rid of the dog"—so we gladly obliged and whisked Blackie away. Blackie was elated to be out of his own waste and happily hopped right into our rescue van. He never looked back.
Dog Up (for Adoption), Abuser Down (by Law)
At PETA's shelter, Blackie enjoyed a heated room, a sofa to lounge on, fresh food and water (which he gobbled up!), and regular walks. He also got—no doubt for the first time ever—a bath. Our veterinarian found Blackie to be 20 percent underweight and suffering from a severe hookworm infestation. After a few days of treatment (and plenty of TLC) at PETA, Blackie—since renamed Jabber—was transferred to the Portsmouth Humane Society. He's gained 11 pounds since his rescue and now awaits adoption.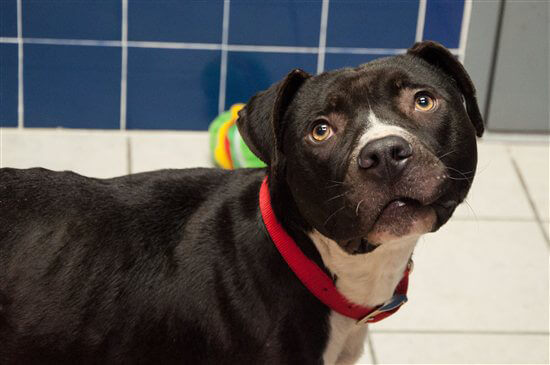 You'll be glad to know that Jabber's former owner isn't faring nearly so well: After PETA's witnesses testified in court, a judge found the man guilty of cruelty to animals, saying that he found the evidence "shocking" and that it was "no condition to keep a dog in." He was sentenced to pay a $250 fine and spend one month in jail and is also forbidden from owning "pets of any kind" for two years. If he does not maintain good behavior for two years, his sentence will increase to a $500 fine and six months in jail.
What You Can Do
Jabber is just one of the many dogs and cats who've had rough starts in life but are now ready for adoption at shelters. If you're looking to add an animal (or two) to your family, please give them the homes they so richly deserve—never buy animals from breeders or pet shops. And if you ever see an animal in distress, please, be ready to help.