Fans sometimes faint at concerts, but what happened at one of Morrissey's shows this week left even the on-duty EMTs shocked. When Moz performed "Meat Is Murder" at his show in Salt Lake City on July 18, the performance was accompanied by video footage from factory farms and slaughterhouses.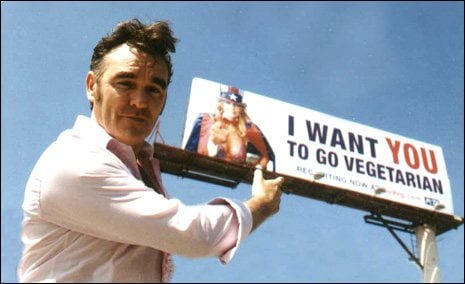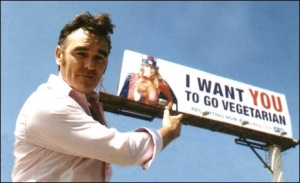 The inescapable images of violence toward animals seemed to have a profound effect on the audience. PETA volunteer Justin Strange was working at the information table that we set up at every Morrissey show, and he watched as three people had to be carried out:
When Morrissey played his song "Meat Is Murder," the giant screen behind him started to play scenes of graphic violence from inside slaughterhouses and factory farms. … Many people couldn't bear to even look in the direction of the stage. Partway into the song, a young woman fainted and had to be carried outside of where the music was and into the hallway. … Soon after, two more people—a man and a woman—were also brought out. … The security staff shouted out, "They're dropping like flies in there!" and frantically radioed for all available EMTs to mobilize. EMTs appeared in a matter of seconds and revived all three people with smelling salts, gave them water, and took their blood pressure. All three of them were white as ghosts and clearly shaken up. As soon as they were able to get on their feet, all of them grabbed a PETA vegan starter kit.
You don't have to be famous like Morrissey to inspire people to change. Never miss an opportunity to speak up for animals and be the voice that people can't ignore.