Carbon Hill, Alabama residents alerted the Walker County Humane Society to an injured dog in the area who'd been shot between the eyes with an arrow that apparently just missed her brain.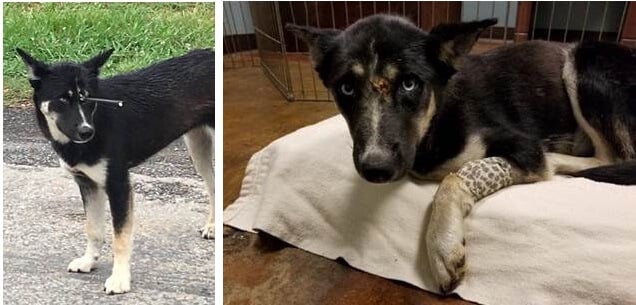 Rescue workers arrived on the scene and used sedative-laced cat food to catch the terrified animal. The dog received emergency surgery to remove the arrow and is currently recovering at an animal hospital.
Only a dangerous, violent person could put an arrow between a dog's trusting eyes and leave her to die in agony and fear.
Police have yet to make any arrests in the case, prompting PETA to add up to $2,500 to the existing $2,500 reward being offered by Walker County Humane Society.  A potential $5,000 is now up for any information leading to the arrest and conviction on cruelty charges of any perpetrators responsible for this crime.
PETA is urging anyone with information about this case to come forward immediately, before this dog's attacker hurts anyone else. This crime is first-degree animal abuse and punishable by a 1- to 10-year prison sentence and a $15,000 fine.
Animals need our help to protect them from vile, depraved individuals who would harm them.
Stories like this are a dreadful reminder of how important it is for guardians to keep their animal companions safe indoors and never leave them unattended or allow them to roam freely outside, where they may be stolen or injured.
ALWAYS keep your cat safe & indoors. pic.twitter.com/EoLHaZ3Zik

— PETA (@peta) May 30, 2018
Guardians should also be sure to have their animal companions spayed or neutered in order to help control the number of homeless dogs and cats, who are at risk of contracting communicable diseases, being hit by cars, and being abused by cruel humans.
Help find justice for this poor dog.
Please share this blog post— someone may recognize this dog, and it may be the only way to apprehend whoever is responsible.
Anyone who recognizes this dog or knows someone in the Carbon Hill area in possession of a bow and arrow is encouraged to contact Deputy Carpenter at the Walker County Sheriff's Office at 205-302-6464 immediately.