Update: In a win for the animals he once neglected, disgraced longtime animal abuser John Hightower pleaded guilty today to 14 counts of cruelty to animals. PETA has argued for years that conditions at his now-defunct Mobile Zoo in Alabama constituted cruelty, and we oversaw the relocation of Joe—a chimpanzee who once plucked out his hair in solitary confinement—as well as three bears who paced endlessly and begged for peanuts on Hightower's watch. They are all now healthy and happy at reputable sanctuaries.
Originally posted on March 16, 2017:
The owner of The Mobile Zoo in Alabama and a PETA foe, John Marks Hightower, has been arrested and charged with 28 counts of cruelty to animals.
The owner of the Mobile Zoo was arrested on 28 counts of animal cruelty. https://t.co/W11vXYcfW4 pic.twitter.com/sw6FQWKLA7

— FOX10News | WALA (@FOX10News) March 16, 2017
The U.S. Department of Agriculture (USDA) revoked the roadside zoo's license in November, following years of complaints submitted by PETA that led to numerous inspections and stacks of citations. In the USDA's order revoking the license, it noted that "[d]espite repeated notices and warnings…[Hightower and the roadside zoo] willfully violated the [Animal Welfare] Act" and that "[t]he gravity of the violations herein is great."
Among them, the USDA found that Hightower and his staff failed to give animals proper food and clean water, denied sick and injured animals veterinary care, and kept animals in filthy cages soiled with feces, urine, and rotting food.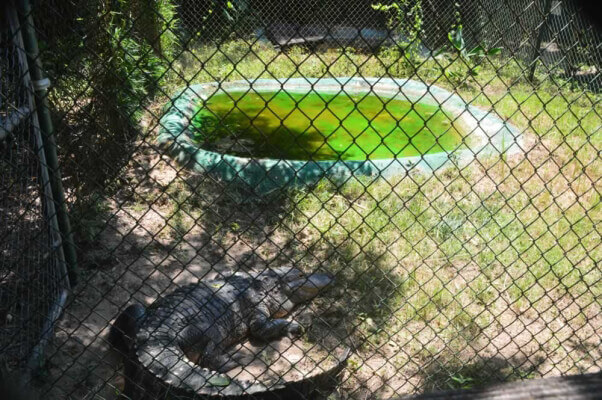 Shortly before the roadside zoo closed, PETA was able to rescue long-suffering chimpanzee Joe, who had barely seen another member of his species since 1999. We sued The Mobile Zoo under the Endangered Species Act and agreed to drop the lawsuit if it would allow him to retire to a spacious accredited sanctuary in Florida. It relented, and he hugged the first chimpanzee he saw in his new home.
If Hightower is convicted of cruelty to animals, PETA will push for him to be punished to the fullest extent of the law.