Updated May 9, 2021: It was just revealed that the winner of the Kentucky Derby, Medina Spirit, tested positive for an illegal drug. This is the 5th drug violation for trainer Bob Baffert in just the last year. The time has long passed for regulators to stop protecting Bob Baffert with minimal fines and finally kick him out of racing. Thirty verified drug violations over his career, with five in just the last year, point to a pattern of cheating that should never have been tolerated these long years. He will undoubtedly come up with yet another implausible excuse, but this time, the regulators need to get a backbone, protect the horses from systematic abuse, and ban him permanently from racing.
Originally published on April 28, 2021:
Now that we're all pros at social distancing in order to help keep other humans alive, it's time to widen our circle of compassion by practicing moral distancing to keep horses alive. PETA wants everyone to stay away from the Kentucky Derby—and we're driving our message home with a mobile billboard circling in front of the racetrack's entrance.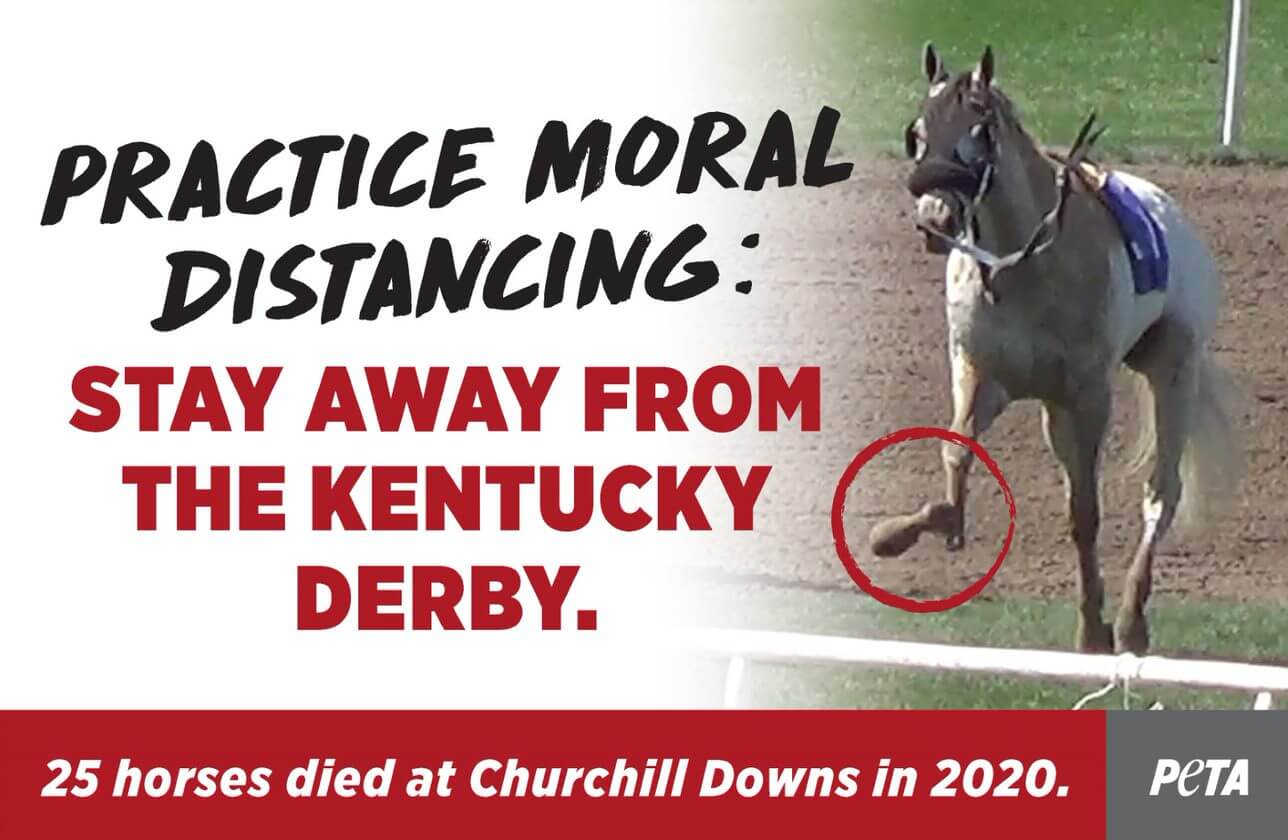 Safety Measure Ignored by Churchill Downs
Humans weren't the only ones who had a rough go of it in 2020—25 horses died after sustaining catastrophic injuries on Churchill Downs' dirt and turf tracks last year alone.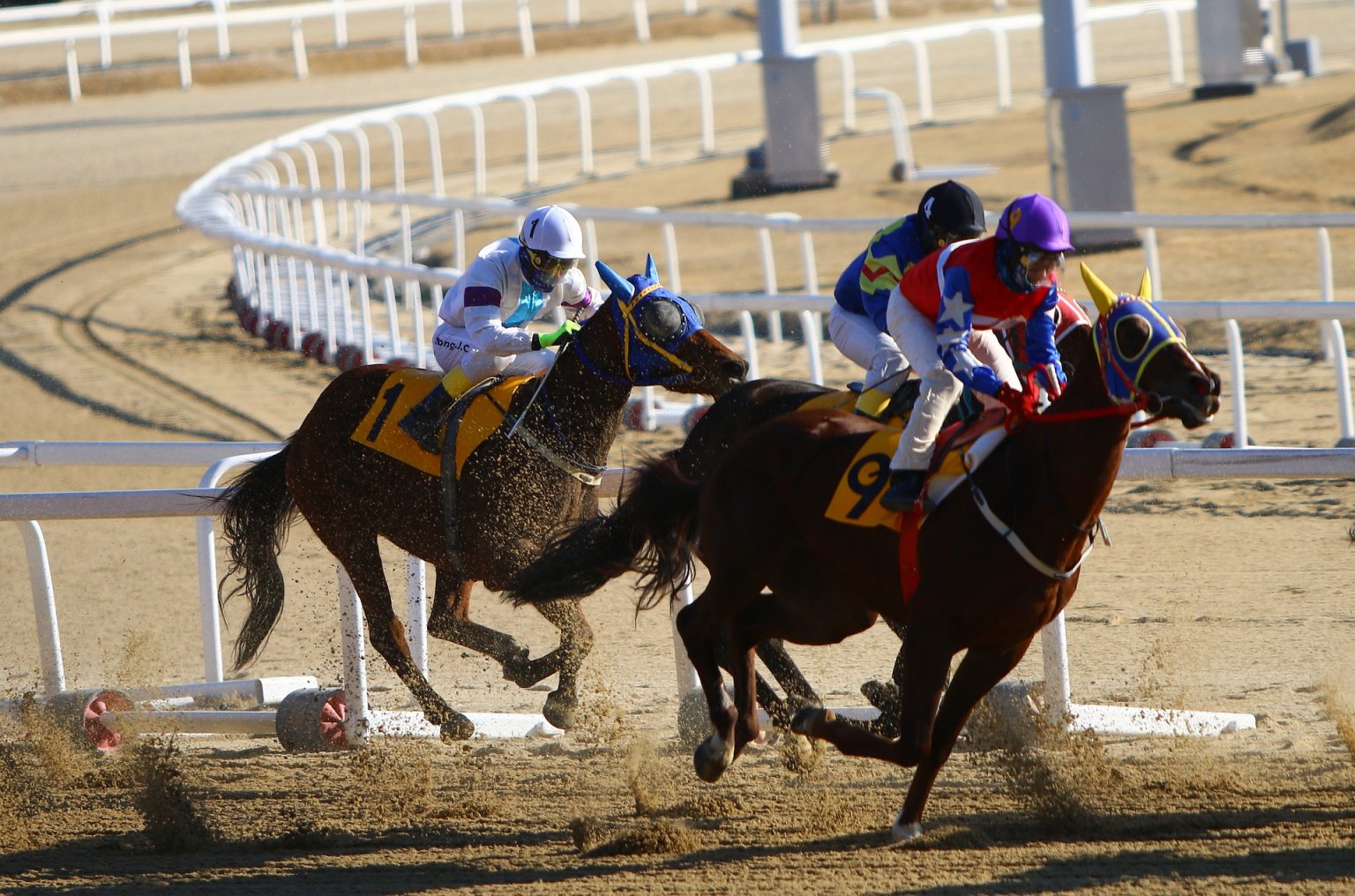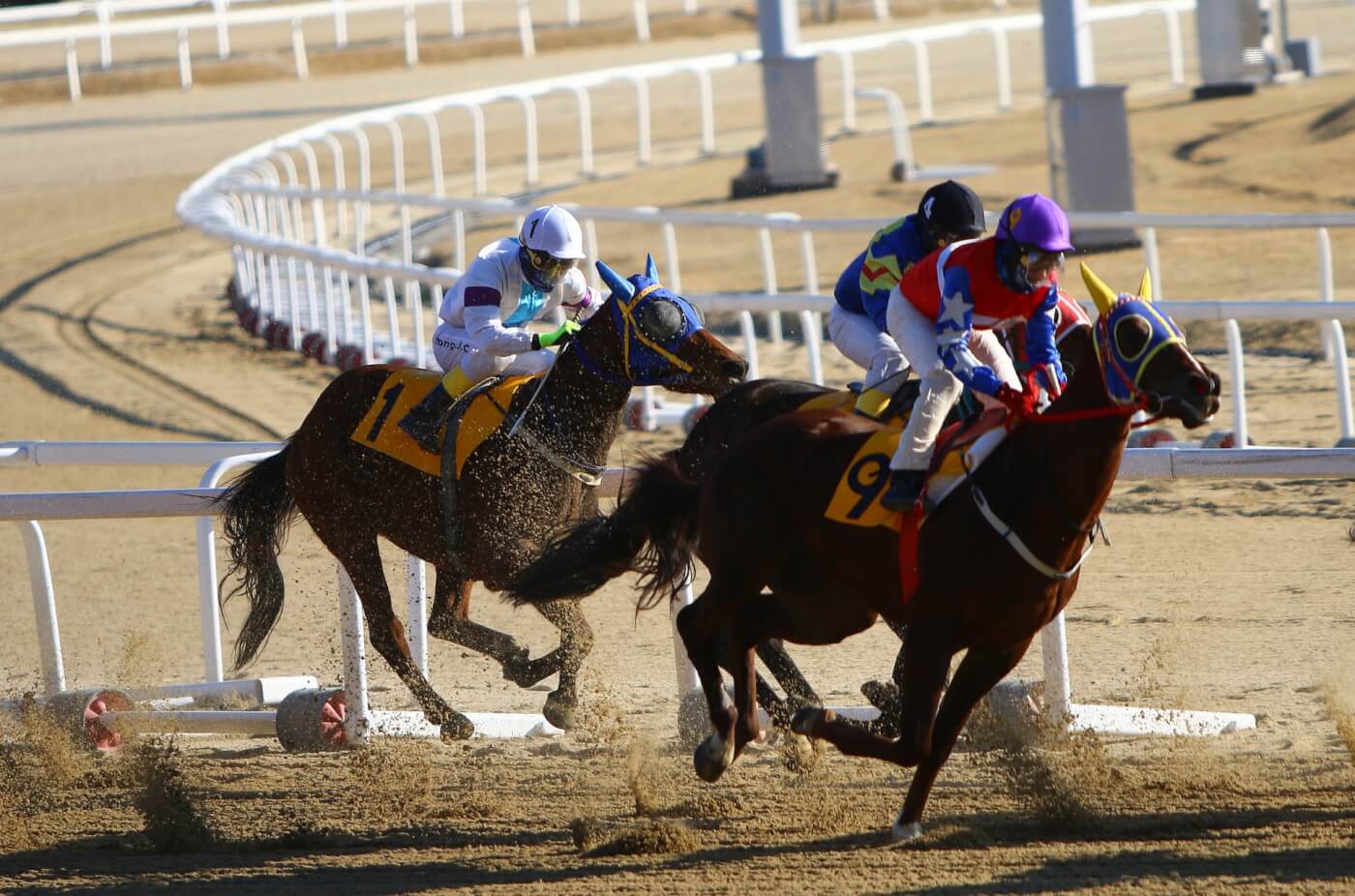 The racing industry is well aware that dirt tracks are the most dangerous surface of all, and turf (or grass) tracks come in second for causing fatal injuries. Synthetic surfaces are less likely to result in broken bones and deaths than dirt or turf are, yet there is no national standard calling for synthetic tracks—a glaring reminder that many in the horse racing industry aren't serious about protecting horses. PETA owns stock in Churchill Downs, Inc., so that we can influence the company from the inside. We've directly asked track officials simply to report on the feasibility of switching the dirt track to a modern synthetic surface. So far, they've refused.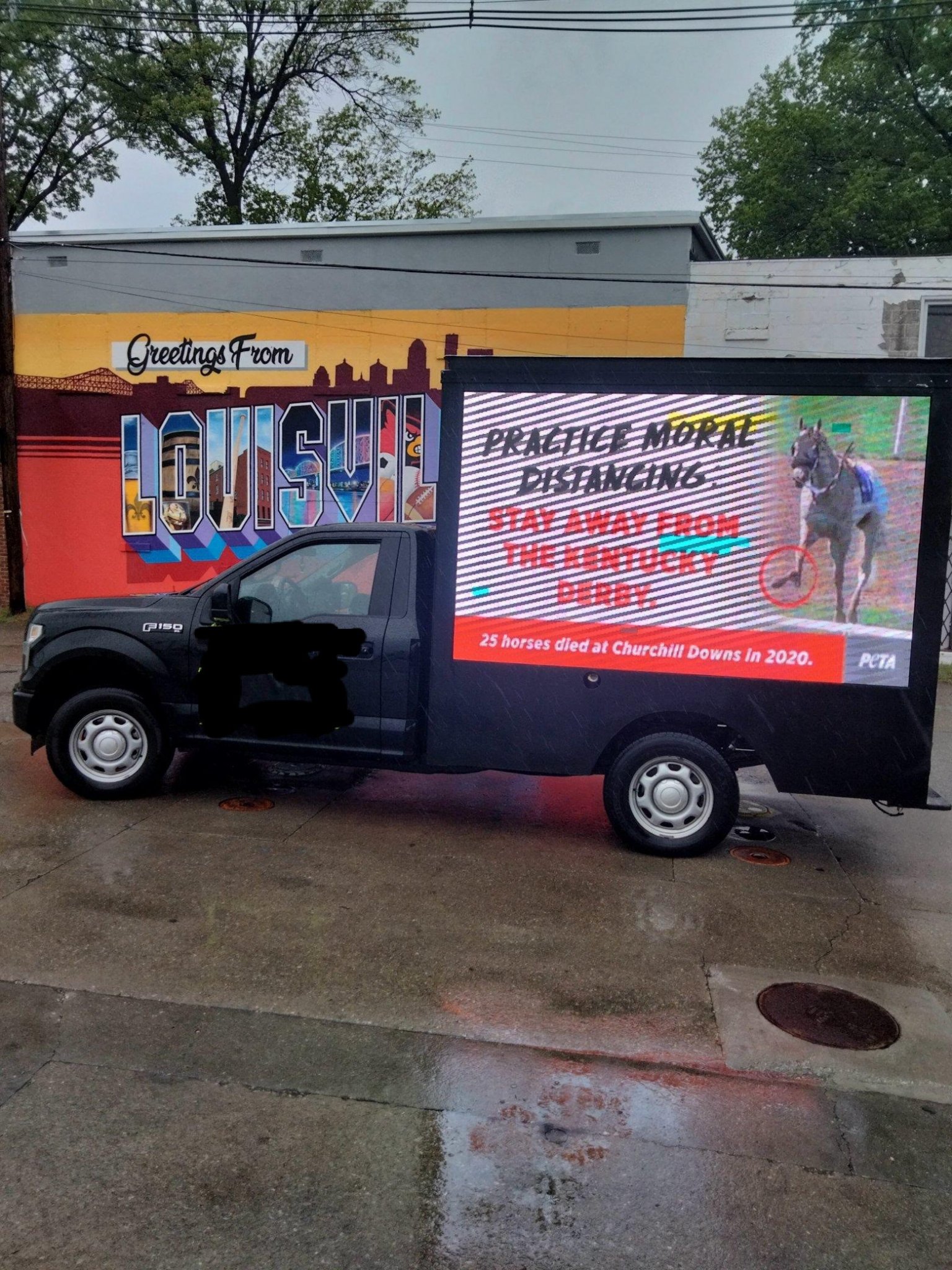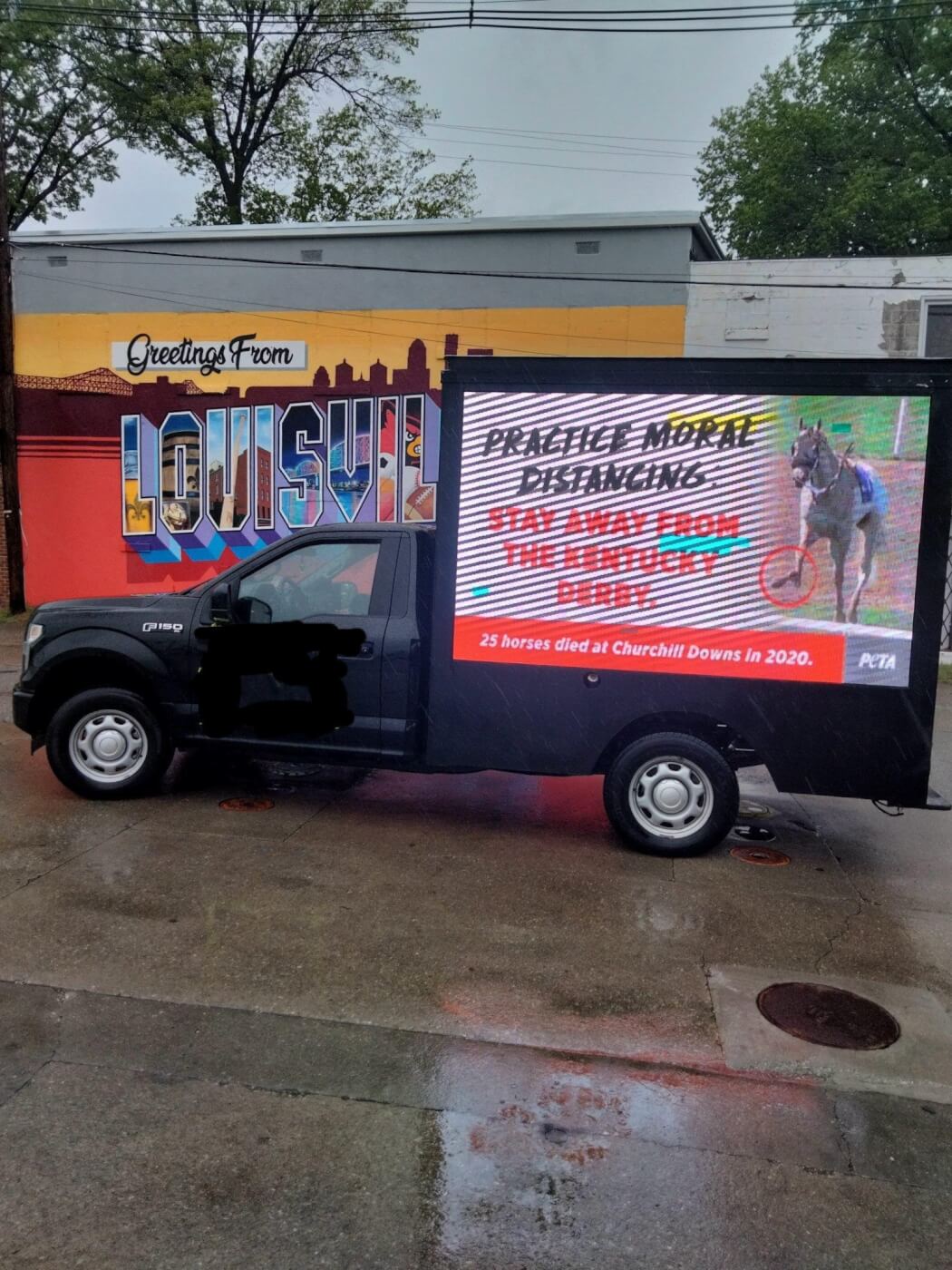 Thousands of Deaths and No Accountability
According to The Jockey Club's Equine Injury Database, more than 6,500 fatal injuries occurred during races nationally between 2009 and 2019. (And this horrifying number doesn't even include training deaths.) The highest rate of these catastrophic injuries occurred on dirt tracks—the most deadly surface. Estimates suggest that more than 100 deaths could be prevented annually by switching from dirt tracks to synthetic ones. Shockingly, these statistics don't even take into account the scores of horse deaths that occur during training.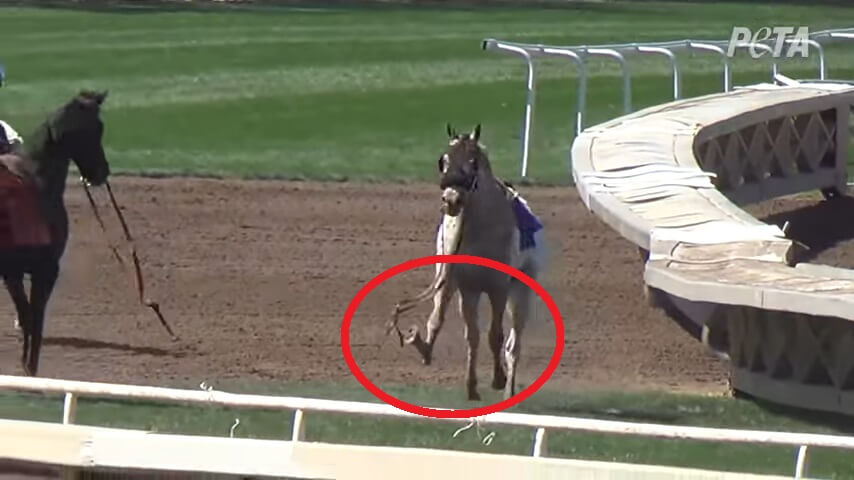 As long as horses continue to die at Churchill Downs, everyone should refrain from attending or betting on the Kentucky Derby.
It's Not Just the Horses at Churchill Downs Who Suffer and Die
An average of 24 horses a week succumb to fatal breakdowns at racetracks in the U.S. Horses used in the racing industry are forced to sprint—often under the threat of whips and even illegal electric-shocking devices—at breakneck speeds that often result in injuries and even hemorrhaging from the lungs. Pushed beyond their limits, most of them are subjected to cocktails of legal and illegal drugs intended to mask injuries and artificially enhance performance.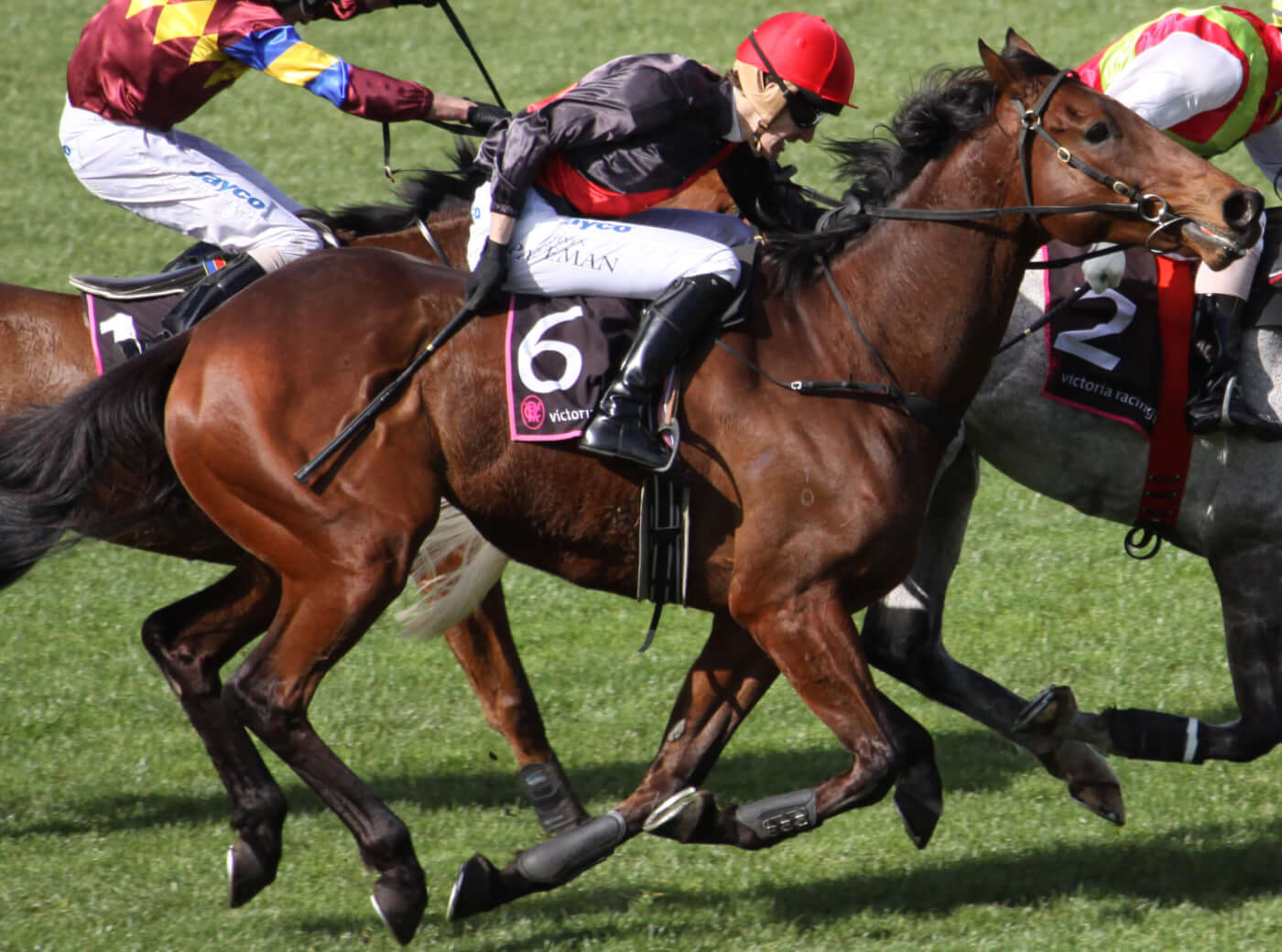 Liss Ralston
Even the Horses Who Win the Race Lose in the End
Each year, thousands of "unprofitable" or simply unwanted Thoroughbreds from the U.S. are trucked or shipped to Canada or Mexico and slaughtered. In addition, hundreds of Thoroughbreds from the U.S. are sold to Japan and South Korea every year, and most will eventually end up in slaughterhouses. There, they are violently killed and cut apart, and their flesh is then sold.
Even so-called horse racing "stars" can end up in a slaughterhouse. Betrayed Kentucky Derby winner Ferdinand was sold to a Japanese breeder and then sold for slaughter a few years later. PETA also discovered that Derby and Preakness winners Charismatic and War Emblem were on breeding farms in Japan, and we learned that Private Vow, a Kentucky Derby runner, was slaughtered in South Korea in 2020.
 You can help spare horses suffering and a miserable death by never placing a bet on a horse race and never going to a track while horses suffer.