Have a run-in with the wrong people in Chicago and you could be dead meat. But have a run-in with the right people in Chicago and you could be free of dead meat. Miss Chicago, Marisa Buchheit, is helping people in her city stop commissioning mob hits on turkeys by hosting a pre-Thanksgiving vegan dinner to show off the best of Chi-Town's turkey-free fare.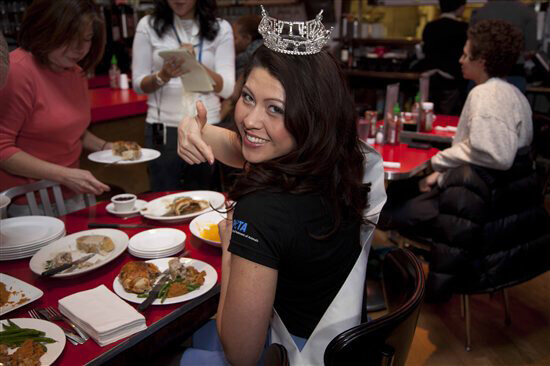 © Jimmy Fishbein
Chicagoans were invited to meet the vegan beauty and sample the vegan bounty at the famous Chicago Diner. Marisa, who went vegan at age 12 to stop contributing to animal suffering, presented veggie turkey roast with country gravy, pumpkin ravioli, "beefy" Wellington, herb stuffing, holiday sweet potatoes, cranberry relish, green beans amandine, and dairy-free pumpkin-chocolate cheesecake. "I'm all about the amazing vegan food this city has to offer, and I think people are inspired by the fact that there is a pageant girl who likes to eat—delicious vegan food, at that," she said.
It's easy to whip up a meat-free Thanksgiving meal at home, but for people who would rather spend their holiday lounging than cooking, The Chicago Diner has an offer they can't refuse: The entire spread is available for carryout.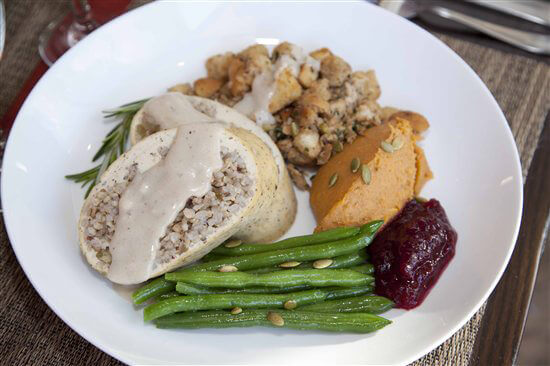 © Jimmy Fishbein
And turkeys are hoping people gobble up the diner's veggie turkey roast because even a turkey who messed with Al Capone wouldn't have gotten it as bad as the ones killed in today's slaughterhouses. Workers hang the turkeys upside down by slamming their often broken legs into shackles and then drag the birds through an electric water bath that immobilizes but doesn't kill them. Many of the birds dodge the tank and are still conscious when their throats are slashed. And if they're still alive when they reach the feather-removal tank, they are scalded to death in hot water.
It's time for Chicagoans—and everyone else—to send their meat habit the way of Jimmy Hoffa and indulge in a delicious turkey-free meal this Thanksgiving.