After a two-year stint of showing off his finely chiseled physique in America, David—as in Michelangelo's "David"—is returning home to Italy. Only, he's leaving a new man—or should we say, a new sculpture?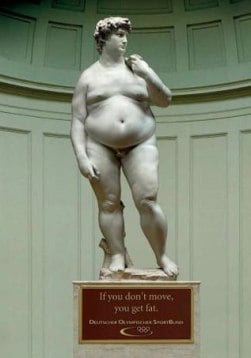 Yes, Michelangelo's most famous sculpture has taken a little bit of the U.S. with him, in the form of 50-plus pounds of extra fat. Looks like David consumed the standard American diet of hamburgers, chicken wings, glasses of milk, and cheese on everything!
The image was actually created by advertising agency Scholz & Friends, which is based in Germany, for an ad campaign they're running to get people up off their rumps and active with healthy doses of daily exercise.
Coincidently, the fat "David" image has surfaced right on the heels of our request to put up ads along the U.S.-Mexican border to warn crossing immigrants about the United States' severely unhealthy meat- and dairy-centered diet.
Obesity is one of the leading health problems in this country for people of all ages—and it's really not shocking, given the poor eating habits and exercise regimens of most Americans.
The good news is that you don't have to be a part of America's expanding-waistline problem. Adults who follow a vegan diet on average weigh 10 to 20 lbs. less than their meat-eating and dairy-guzzling counterparts. Plus, meat, dairy, and egg consumption is linked to asthma and increases a person's chances of getting certain cancers by 40 percent! If you're looking to build the healthy, well-defined body that "David" is best known for, we recommend laying off the animal products. Your looks and health will thank you.
Written by Jennifer Cierlitsky