Why would the Federal Bureau of Investigation (FBI) hurt and kill animals? That's the question that  Congressional Representative Steve Cohen (D-Tenn.) is asking. Rep. Cohen has sent a letter to FBI Director James Comey voicing concerns about the agency's controversial training methods that involve harming and killing animals and its hiring of a contractor that has a history of hurting animals and running afoul of the law.
Cohen—who serves on the powerful House Judiciary Committee, which oversees the FBI—is asking why the agency is still using so-called "live tissue training," which involves inflicting traumatic injuries on animals in an attempt to train federal agents in emergency medical skills, even though more reliable and less costly human-patient simulators are readily available, already in use by other agencies, and endorsed by leading medical organizations.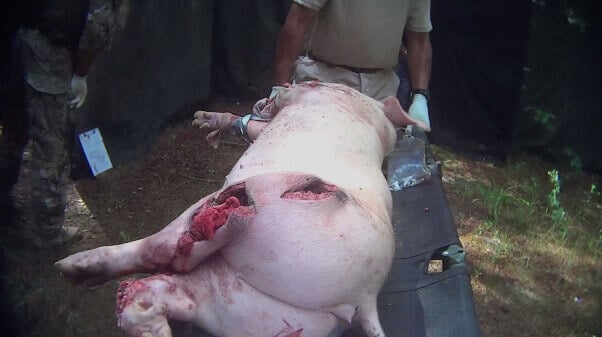 Cohen is also asking pointed questions about the FBI's recent signing of a contract for this training with Assessment and Training Solutions Consulting Corporation, worth almost $22,000. This is the same company to which Virginia authorities recently handed a cease-and-desist order because of its years of apparent violations of the law and federal contract terms regarding its macabre live tissue training in Suffolk, Virginia.
"Government agencies should not be engaging in outdated training practices that provide inferior medical education, waste tax dollars and harm animals when superior and economical alternatives are available," said Cohen. "I'm further troubled that the companies awarded contracts for these unnecessary trainings often have histories of violating federal laws and policies."
Cohen is a cosponsor of bipartisan legislation called the BEST Practices Act (H.R. 1095), which would end live tissue training throughout the Department of Defense. He is also one of 71 members of Congress who recently signed a letter to the Pentagon demanding to know why progress on getting animals out of combat trauma training has been slow. You can read his full letter to the FBI here.
What You Can Do
Please send a polite e-mail to your congressional representatives and urge them to support the BEST Practices Act, which will end replace archaic, abusive live tissue training with high-tech human-patient simulators without delay.
Note: PETA supports animal rights, opposes all forms of animal exploitation, and educates the public on those issues. It does not directly or indirectly participate or intervene in any political campaign on behalf of or in opposition to any candidate for public office or any political party.