Gifted star Mckenna Grace is a role model for people of all ages. She first stole our hearts as the lovable Young Emma in Once Upon a Time. Now, she's become the ultimate inspiration by speaking up for animals. Mckenna, who posed for this adorable shot at Farm Sanctuary, previously starred in a PETA campaign urging people to keep dogs out of hot cars. The 11-year-old now appears in a new billboard with some wise words in behalf of pigs: "Love Them. Don't Eat Them." The billboard, just in time for the start of the new school year, shows Grace cuddling cheek-to-cheek with a contented pig named Sophie—will go up next month in two busy spots near elementary schools and kid-friendly attractions, such as the McKenna Children's Museum in the star's home state of Texas, to send a compassionate message to students.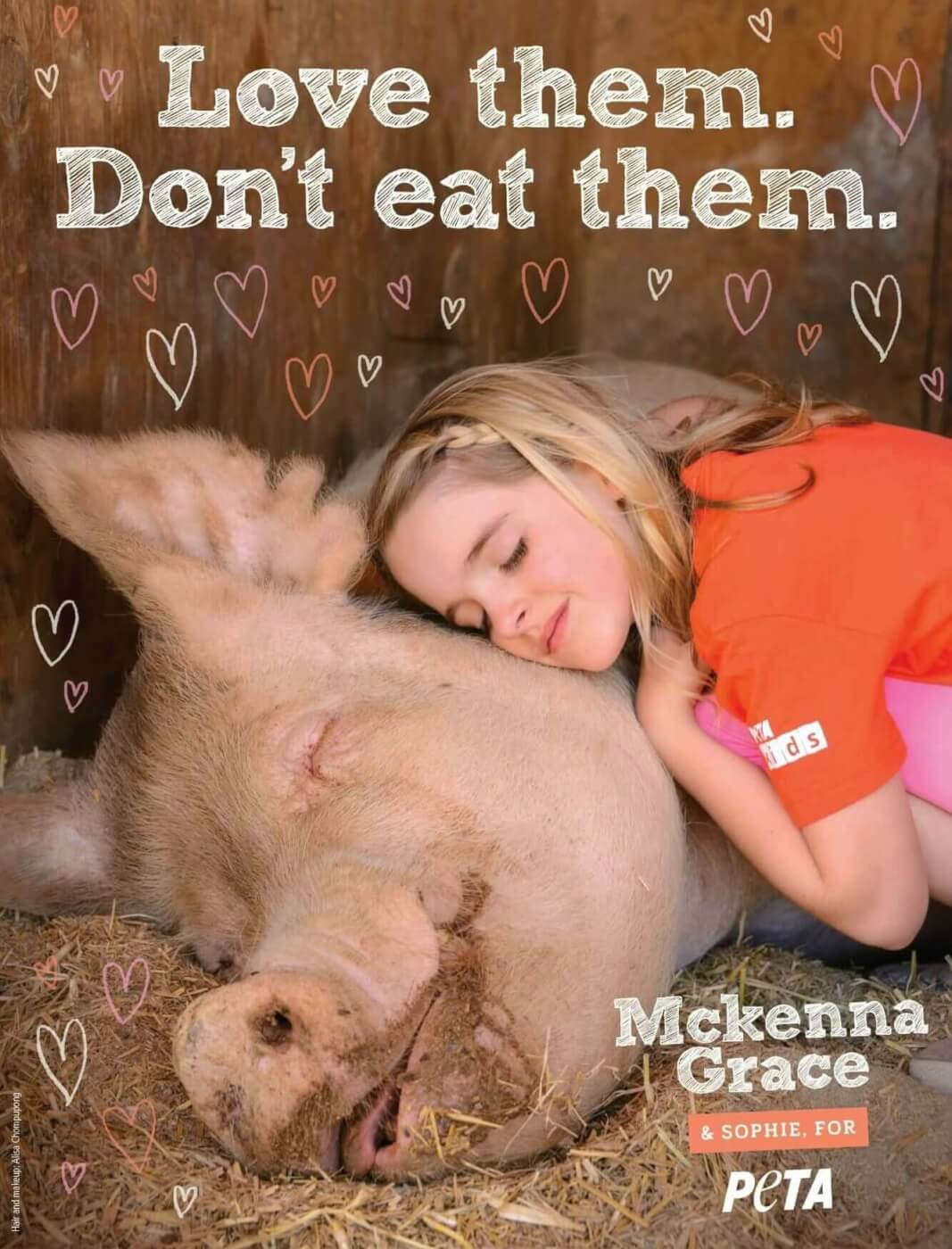 "I want kids to know that even though we may be small, we can still have big hearts and loud voices for animals," Grace says. "Pigs are just as smart, loyal, and loving as dogs, so it makes no sense that we keep one in our homes and put the other on our plates."
Like dogs, pigs are friendly, loyal creatures who are playful and affectionate. They're intelligent, and they love to snuggle. Pigs raised for food may never get to take a breath of fresh air, and extreme crowding and filth on farms cause rampant disease. Mother pigs are kept in tiny, barren crates so small that they can't even turn around. Piglets' tails are cut off, their teeth are clipped, and male pigs are castrated—all without any painkillers.
What You Can Do
Anyone horrified by the suffering that pigs endure for the meat industry can help animals every day simply by not eating them. With many delicious recipes to choose from and tons of dining-out tips, our vegan starter kit makes it easier than ever to make the switch.