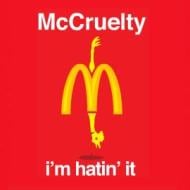 OK, we don't have the powers of The Shadow to let us know what evil lurks in the heart of Ronald McDonald, but some recent stories shed some light on who McDonald's might be hatin'.
1. Its Employees
The manager of a McDonald's in Brazil had to take the company to court to win compensation after gaining 65 pounds from having to sample the restaurant's food for a dozen years.
2. African-Americans
Another lawsuit, filed in Manhattan, alleges that three black men were told that they couldn't use the restrooms in a Kips Bay McDonald's unless they made a purchase, while a white woman was allowed to use the facilities without having to buy anything.
3. Animals (Especially Chickens)
Now that two U.S. chicken suppliers have begun implementing a less cruel method of slaughter called controlled-atmosphere killing (CAK), McDonald's has run out of excuses for continuing to subject birds to violence and injuries. Please add your voice today to those calling on McDonald's to require its suppliers to use CAK to spare chickens from unnecessary suffering.
Written by Jeff Mackey