Remember season three of Dexter when the Miami P.D. is hunting a killer dubbed the "Skinner"? Our new "wanted" poster features another "Skinner": Jim Skinner, the CEO of McDonald's, a man who allows millions of chickens to be scalded to death by McDonald's suppliers every year.
PETA is used to having our "skin" ads rejected, but our Skinner ad didn't please the censors either. Not to be deterred, we took our message to the streets by erecting stands emblazoned with Skinner's image all over Chicago, where McDonald's is headquartered. The stands dispense free leaflets about Skinner and his McCruelty to chickens.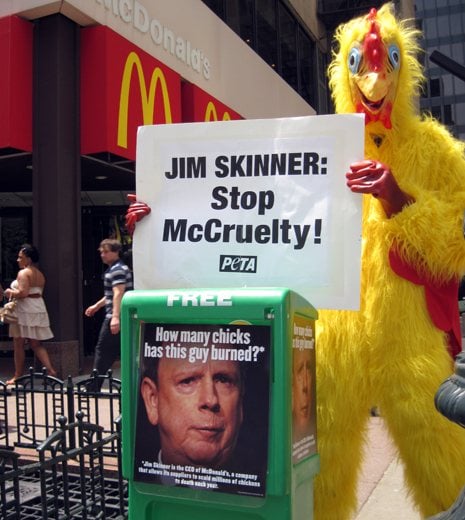 If scalding chickens to death has you seeing red, e-mail Jim Skinner and tell him to require his company's suppliers to switch to a less cruel slaughter method that would eliminate the worst slaughterhouse abuses.

Written by Michelle Sherrow