Almost exactly a year to the day after PETA volunteers made a gruesome discovery while out delivering straw bedding to neglected "backyard dogs" in Portsmouth, Virginia, a judge has sentenced a man who was convicted of cruelty to animals—for starving a pit bull named Dynasty to death.
The PETA volunteers almost walked right by the dirty plastic dog carrier because it was partially concealed by a doghouse that had been purposely pushed up against it, probably to hide the dogs. But then they heard movement inside. The dog who was trapped inside began barking, wagging his tail, and jumping up and down in excitement. As they approached, they realized that there were actually two dogs in the crate—but the other dog wasn't moving.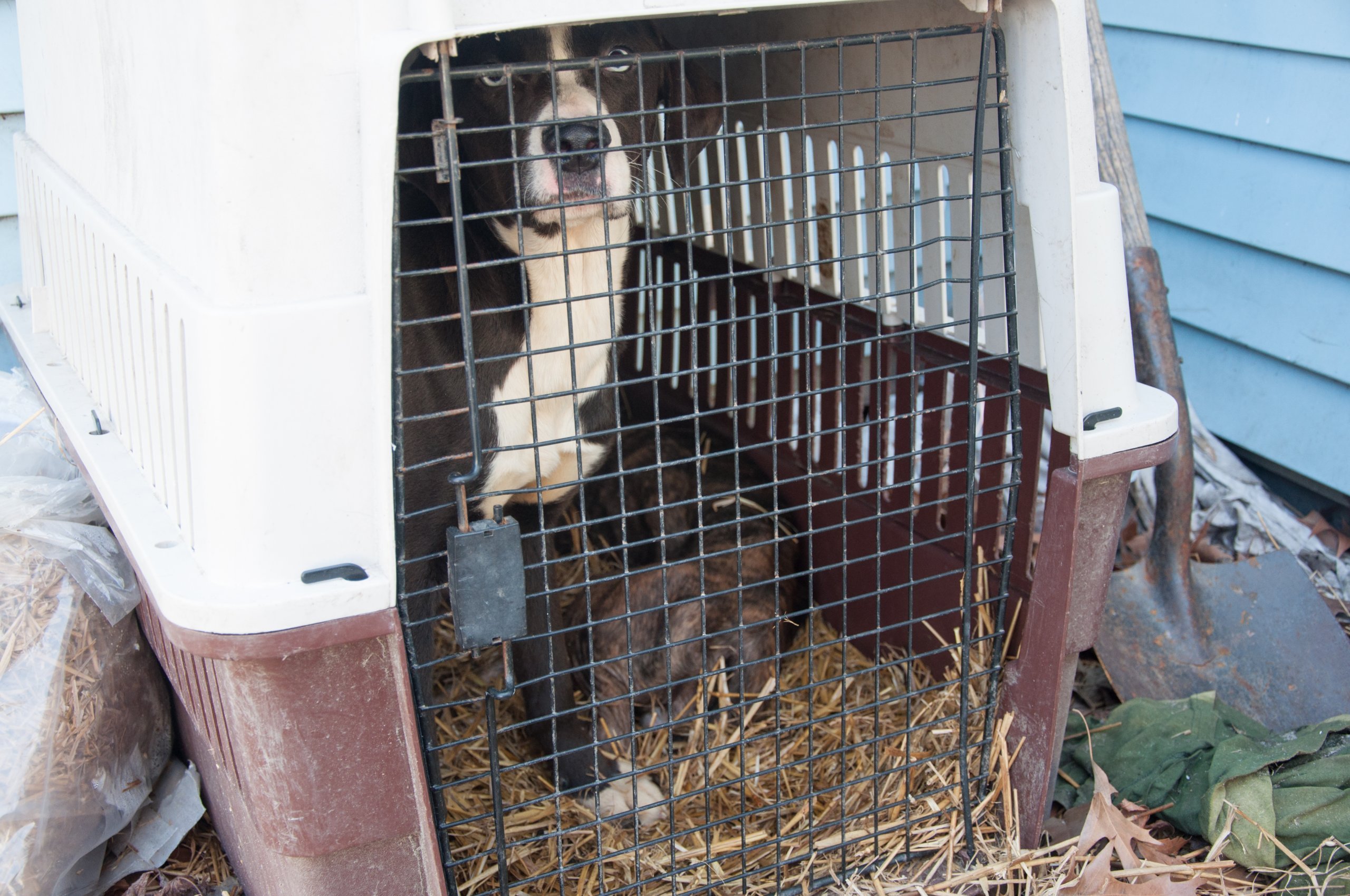 Inside the crate, they discovered the emaciated remains of Dynasty, a brindle female pit bull. The surviving dog, a male pit-bull mix named Blue, was also malnourished.
The crate was so small that Blue was forced to trample Dynasty's body. The two dogs had evidently been put in the crate at least the day before PETA found them so that they would be out of the way for a birthday party.
After the volunteers called the police, Dynasty's remains, along with Blue, were relinquished to PETA. An examination by a veterinarian revealed that Dynasty didn't have a single ounce of fat on her body and that she had been suffering from an untreated broken leg. The only contents of her stomach were a few pieces of straw that she had eaten out of desperation to sustain herself.
In September, the dogs' owner, Adriane Mason, was found guilty of cruelty to animals for starving Dynasty to death and for depriving her of emergency veterinary treatment. Today, a judge, who said he was "mystified" and "dumbfounded" by Mason's behavior, sentenced him to 12 months in jail, with six months suspended, and ordered him to pay $452 restitution to PETA (for veterinary bills). Perhaps most importantly, Mason was also sentenced to three years supervised probation, during which time he cannot own any animals.
As for Blue, his dark days are behind him. He was taken to the Virginia Beach SPCA and later adopted into a loving home. If you'd like to see him in his new digs, pick up a PETA 2014 Calendar—he's the dashing "Mr. August."