PETA's Community Animal Project (CAP) delivers doghouses, straw bedding, toys, and affection to forgotten dogs in deeply impoverished areas of southeastern Virginia and northeastern North Carolina. These neglected dogs have seldom if ever been cared for, much less shown any kindness. They are chained 24/7 through bone-chilling winter nights, raging storms, hurricanes, and blisteringly hot summers. Last winter, PETA staff and weekend straw-delivery volunteers found hundreds of dogs in desperate trouble—among them, Dynasty, Blue, Ice, Diamond, and Dallas.
Last February in Portsmouth, Virginia, volunteers spotted a plastic dog crate partially concealed by a doghouse. Since the carrier was old, dirty, and surrounded by trash and there was no food or water nearby, they thought at first that it had been junked, but then they heard movement inside: A dog who was trapped inside began barking, thumping his tail, and jumping up in excitement. With mounting horror, they noticed that there were actually two dogs in the carrier—and one of them wasn't moving.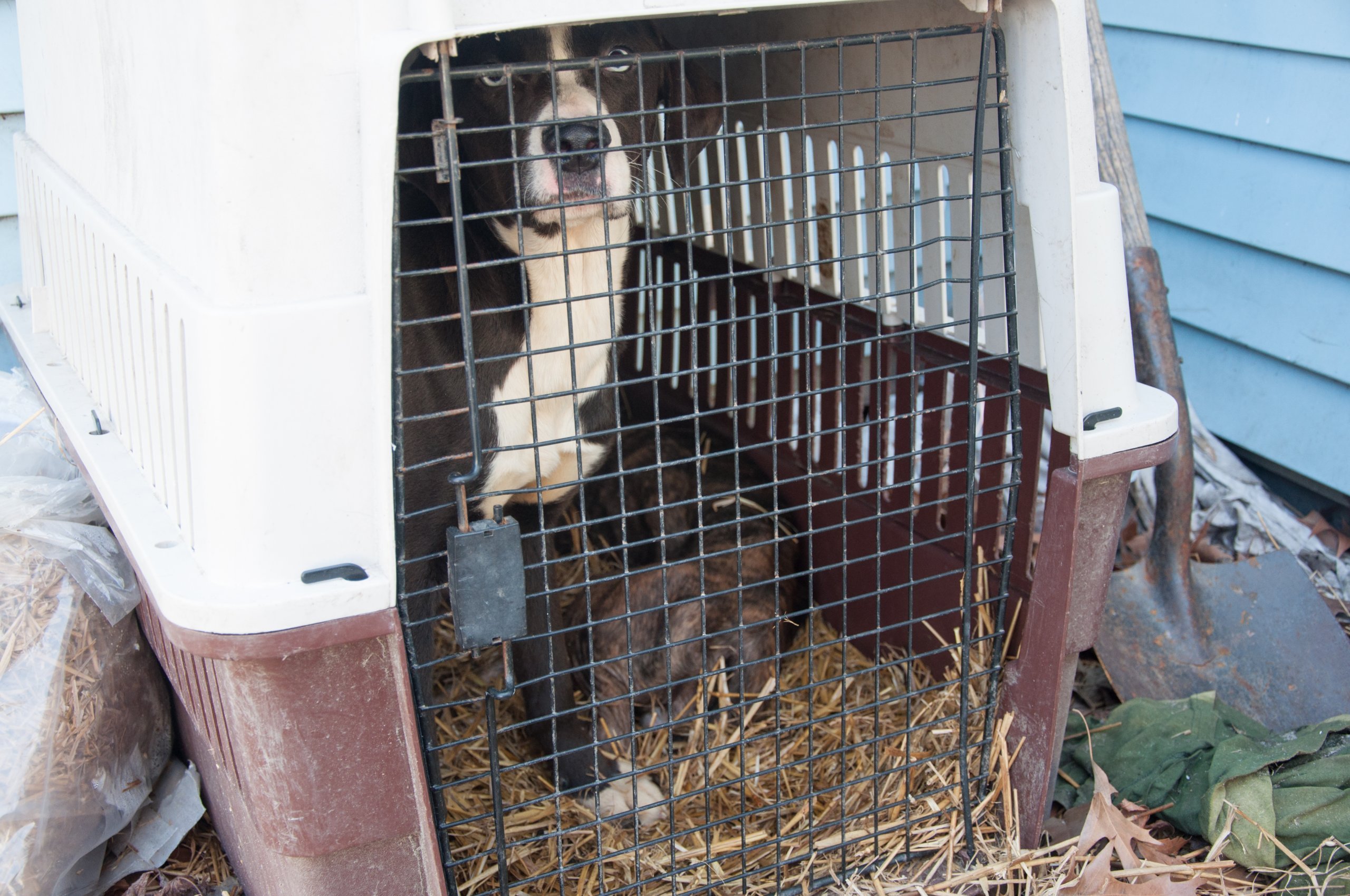 Inside the crate, they discovered the remains of a skeletal female pit bull named Dynasty. The surviving dog, a male pit-bull mix named Blue, was also malnourished, and his white paws were stained yellow from having to stand in his own urine. The crate was so small that Blue couldn't move without stepping on Dynasty's body. The volunteers called the police, and Dynasty's remains along with Blue were both relinquished to PETA. Thankfully, Blue was eventually adopted into a loving home. An examination by a veterinarian revealed that Dynasty didn't have a single ounce of fat on her body and had been suffering from an untreated broken femur. The only contents of her stomach were a few pieces of straw that she had eaten in an attempt to sustain herself. Blue and Dynasty had evidently been put in the crate the day before PETA found them so that they would be out of the way while their owner and his family decorated their house for a birthday party.
On Tuesday—after a judge heard testimony from PETA and a veterinary expert from the Virginia Beach SPCA—the dogs' owner, Adriane Mason, was found guilty of cruelty to animals for starving Dynasty to death and depriving her of emergency veterinary treatment. Mason faces a sentence of up to a year in jail and/or a $2,500 fine and will be sentenced in December. The horrified judge said that he wished he could impose on Mason a sentence similar to the one that Mason had imposed on Dynasty and Blue—confining him to a crate without food or water in the middle of winter—but, he said, that would amount to "cruel and unusual punishment."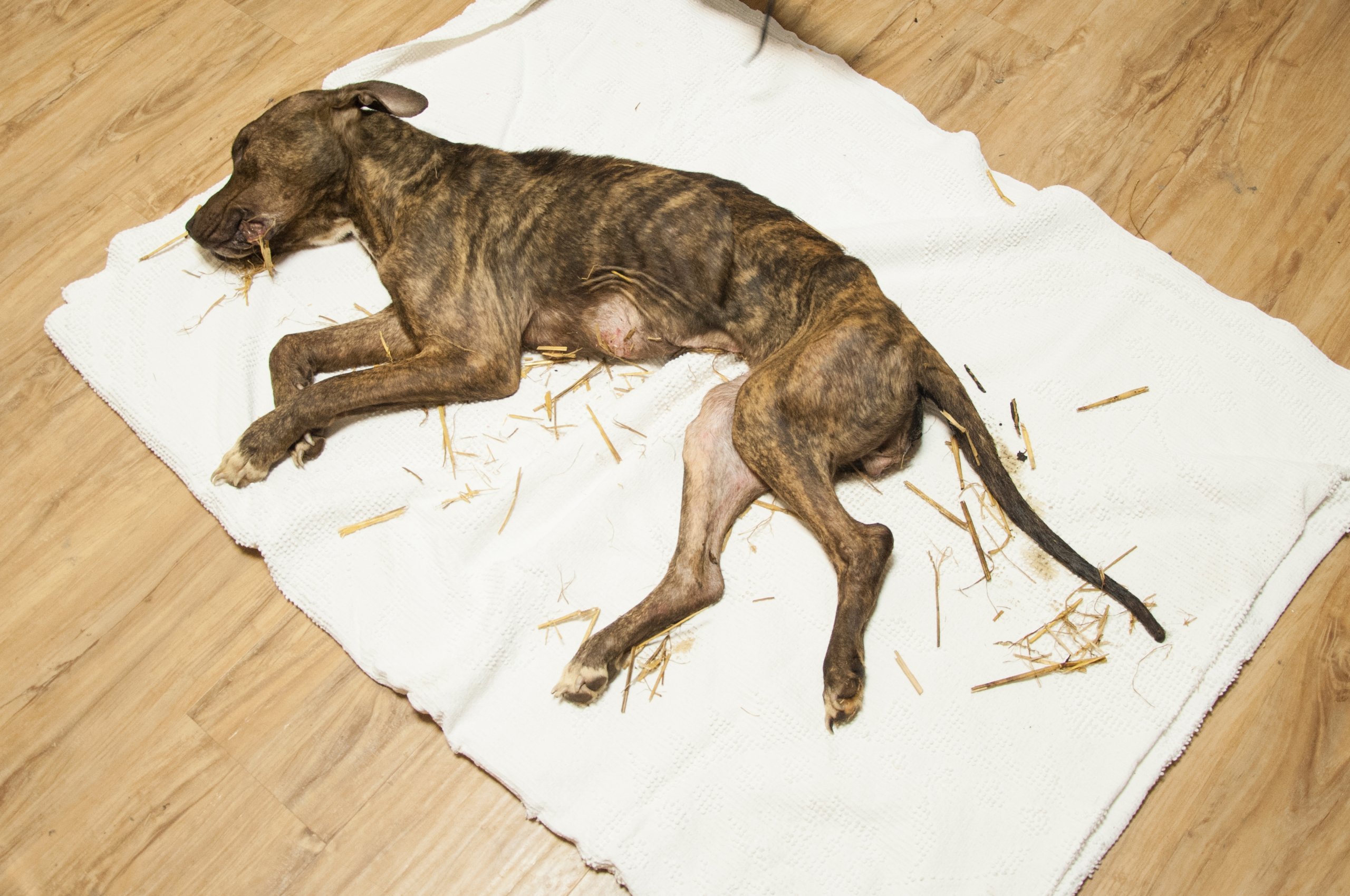 In another horrifying case of starvation and neglect, PETA also gained custody of two adult pit bulls and a puppy in Bertie County, North Carolina, after finding the severely malnourished dogs chained amid junk, filth, and their own waste last winter.
The puppy, Ice, was near death and was rushed to a veterinarian, who determined that he was critically anemic and emaciated. Ice's gums were chalk-white, and he weighed just 16 pounds, less than half of the normal bodyweight for a dog of his size.
The dogs' owner refused offers of free veterinary care for the remaining dogs, Diamond and Dallas. PETA persisted and gained custody of both adult dogs, who were dangerously emaciated but, fortunately, bounced back with care—Dallas gained more than 30 pounds, and Diamond more than 25, in less than a month.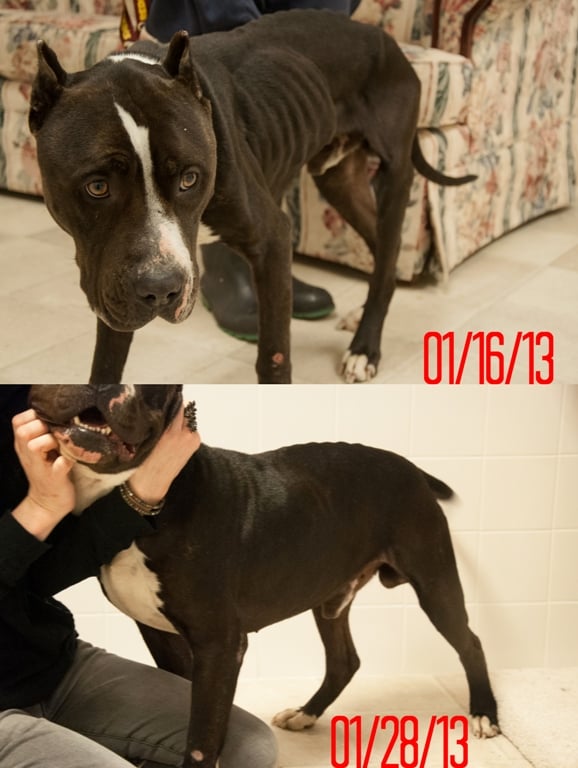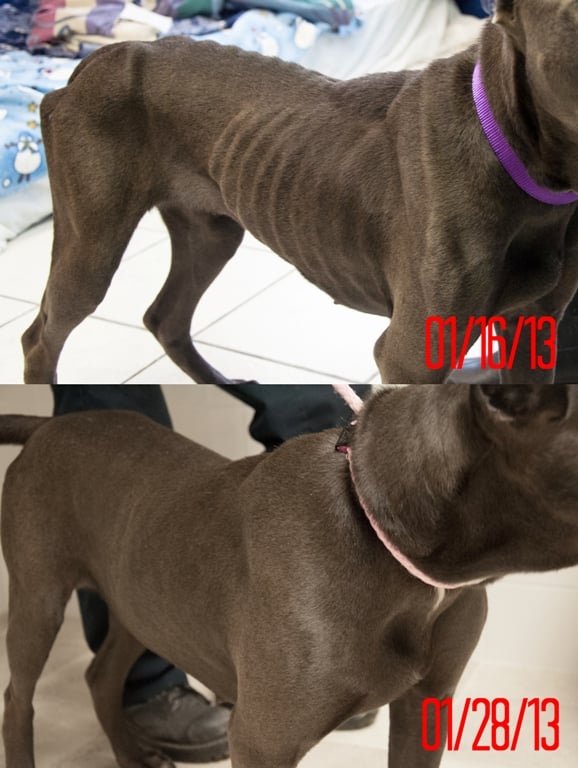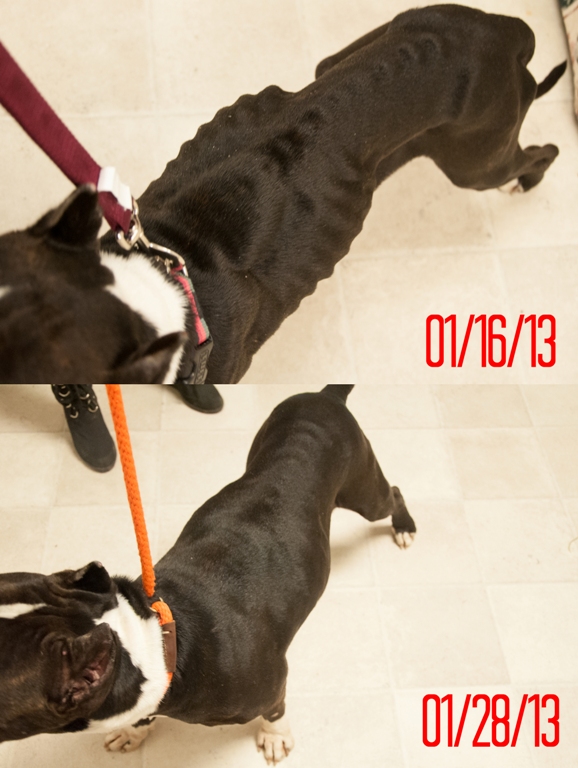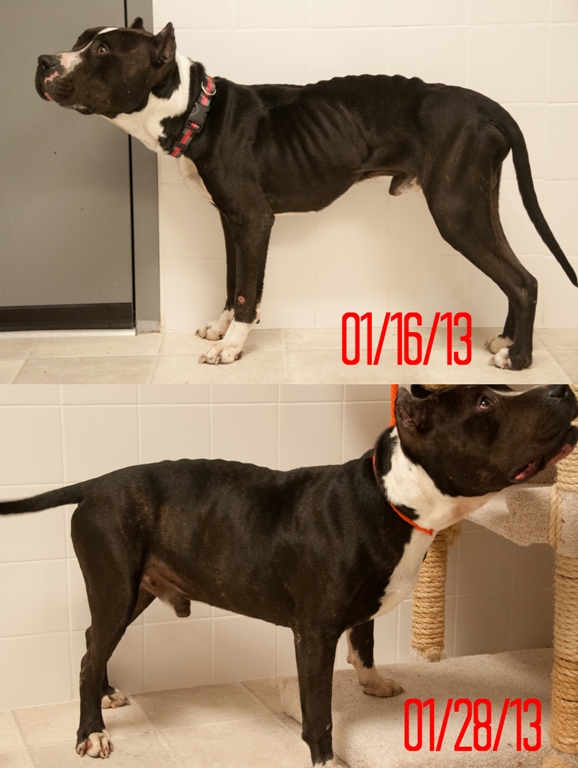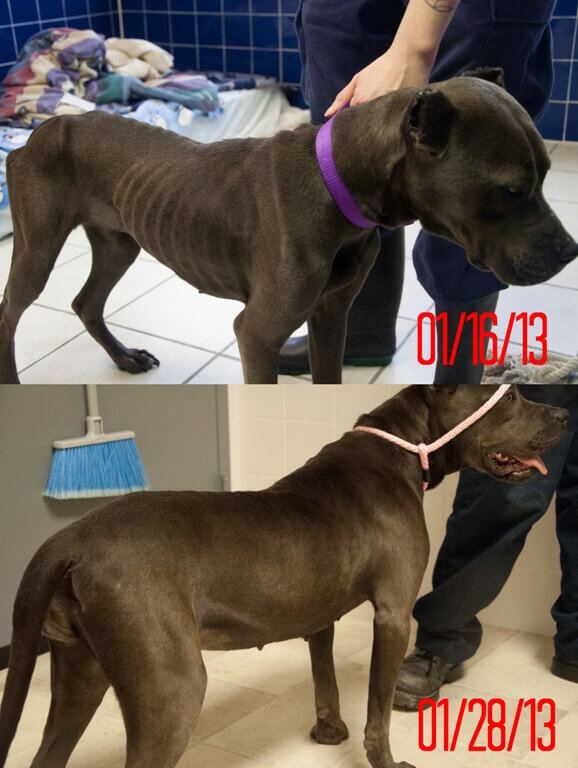 This week, the man responsible for keeping these pit bulls chained and starved was found guilty of cruelty to animals, ordered to pay restitution to PETA for the cost of the dogs' veterinary care, and, most importantly, prohibited from ever owning or harboring any animals ever again!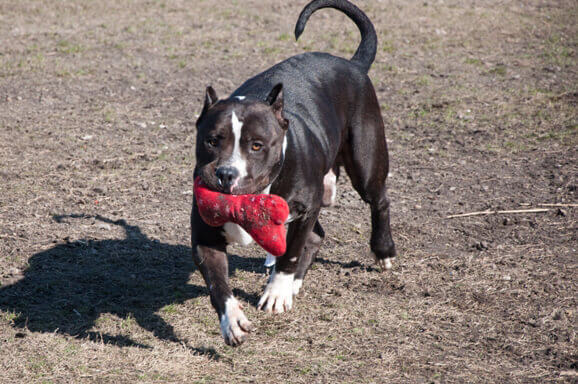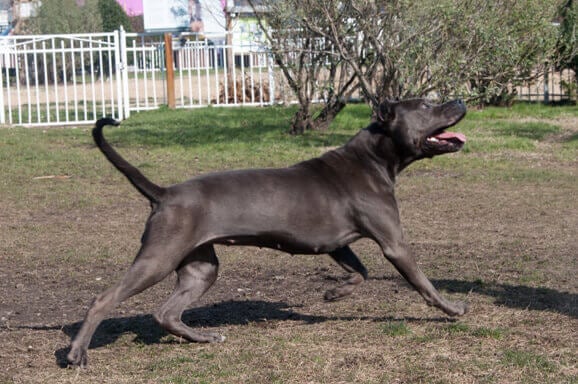 What You Can Do
Donate here to support PETA's efforts to expose cruelty, push for the prosecution of abusers, and save animals' lives. If you suspect that animals are being neglected or abused, call your local animal control or police department immediately. If the agency isn't responsive, contact PETA.