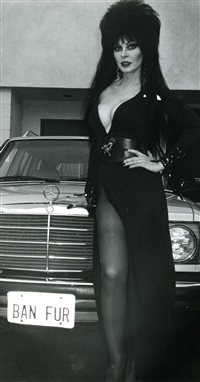 At Los Angeles' Comikaze Expo, attendees can mingle with the likes of Mark Hamill, Stan Lee, and Elvira; get their favorite comics, games, anime, and cult videos autographed; or even get tattooed. But one thing that is definitely off limits at the L.A. Convention Center this weekend? Fur.
Comikaze will have thrills and chills aplenty, but the real-life horror of animals who were beaten, electrocuted, and skinned alive to be turned into jackets is too cruel for even the most seasoned scream queens. When the folks who created and starred in Halloween, Saw, and Friday the 13th are welcome but fur is too scary to let in the door, you know fur production is a truly terrifying business.
Halloween is over, but you can still share PETA's very real horror movie—featuring undercover footage shot on rabbit fur farms in France and China—with your Facebook friends and ask them to support only killing sprees of the celluloid variety.

Written by Michelle Sherrow