Jennifer Lopez is one American who gets no idol worship from anyone who cares about animals. The diva has once again shown that her beauty is only skin deep by posing in a coat made from the skins of arctic foxes in the September issue of Vanity Fair. 
When asked what he thought of J-Lo's coat of many cruelties, PETA Senior Vice President Dan Mathews had this to say: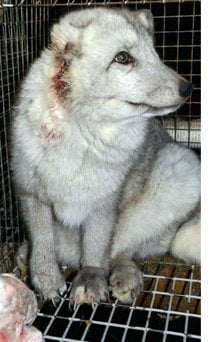 © Oikeutta Eläimille
People who wear fur are either ignorant or arrogant. Because we have sent Jennifer Lopez videos showing how foxes on fur farms go insane from confinement to tiny cages, suffer from broken and exposed bones, and are killed by anal electrocution, J-Lo is situated firmly in the arrogant camp. Maybe the real story behind their breakup is that Marc Anthony left because he couldn't stand looking into her morgue of a closet.
Of the split, Lopez told Vanity Fair, "Sometimes we don't realize that we are compromising ourselves." Would now be one of those times, J-Lo?
 
Written by Michelle Sherrow