Update: The suspects were arrested on August 2 and charged with violations of child abuse and animal welfare laws. The Ridons may face more charges, but they are currently out on bail. PETA Asia-Pacific has hired an attorney and is working to make sure that the suspects appear in court and are vigorously prosecuted. Please support these vital efforts by making a donation today.
 

After a year-long investigation by PETA Asia-Pacific and the National Bureau of Investigations, police have now charged a Philippine couple with cruelty to animals and other crimes related to producing a series of pornographic videos in which young girls torture and kill animals. Faced with the charges, suspects Dorma and Vic Ridon have fled. Warrants have been issued for them.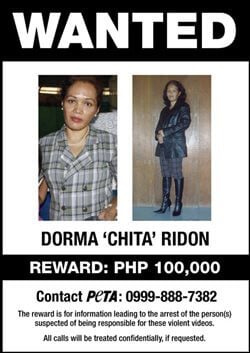 WARNING: Graphic descriptions follow.
The "crush" videos that the Ridons are believed to have produced show scantily clad 12-year-old girls as they stomp on live animals, a rabbit as he or she is skinned alive, other rabbits as they scream while their ears are cut off and they are set on fire, a dog as he or she is burned with a clothes iron, and a monkey who was repeatedly hit in the eye with the sharp end of a stiletto heel. There is more, including puppies crushed until they vomited their own internal organs. A bill currently in the Philippine Senate would criminalize the sale of such "crush videos," already illegal in the U.S. and other countries. You can e-mail Ambassador Jose L. Cuisia Jr. and ask him to vocally support the bill and help prevent the videos from being produced in his country.
PETA Asia-Pacific is offering a reward for information leading to the arrest of the Ridons. You can also make a donation to PETA Asia-Pacific to help the group fight cruelty to animals in this case as well as in many others.
Written by Michelle Sherrow