PETA has joined Stop UBC Animal Research and dozens of other groups across Canada, the U.S., and Europe in calling on the University of British Columbia (UBC) to fully disclose information about its animal experiments, including studies in which monkeys have had holes drilled into their skulls and toxins injected into their heads in order to damage their brains.
In Canada, no federal law governs the treatment of animals in laboratories, and schools are not required to release key information about publicly funded animal experiments, such as the numbers and species of animals used, veterinary records, and protocols describing experiments. And as in the U.S., no experiment is prohibited, no matter how trivial, redundant, or cruel it is. Not surprisingly, Canadian universities have been reluctant to let the public see what happens to animals behind closed laboratory doors.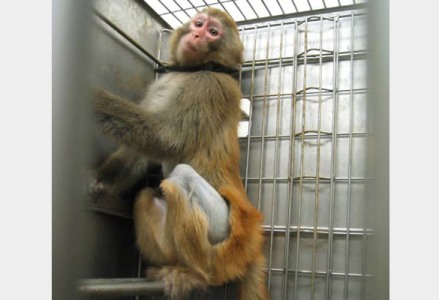 This photo is not from UBC, but it captures the grim reality of typical animal experimentation.
While state and federal laws in the U.S. give citizens a legal right to have access to some information about animal experimentation, some universities fight tooth and nail—and are even willing to defy the law—in order to keep secret the details of how they torment animals. PETA has recently filed lawsuits against the University of Maryland–Baltimore (to gain access to records about invasive brain experiments on ferrets), the University of Wisconsin–Madison (to obtain records related to experiments in which monkeys and cats had holes drilled into their skulls), and a city in Utah (to get records related to homeless dogs and cats who were sold into lives of misery and pain at the University of Utah).
If universities are going to abuse animals in experiments that are funded with taxpayer money, they should at least be accountable to the citizens who have no choice but to bankroll this cruelty.
Written by Paula Moore