I didn't choose the slug life, the slug life chose me. It all started when a tawny-colored slug showed up on my porch when I was 4 years old. Instantly enamored, I gave him a name that only a kid could love: Foo Foo. I loved Foo Foo and considered him my first companion animal. I even built him a Lincoln Log cabin to live in, but much to my chagrin, he preferred my mom's container garden. Most mornings, I'd see a glistening trail that I assumed led back to Foo Foo's wife and kids.
Everything was fine in our world until one fateful family gathering. Word in the yard was that my uncle was going to do a magic trick. Magic? Yes, please! Elbowing my way through a gaggle of gangly arms and legs five cousins deep, I arrived just in time to hear my uncle say "abracadabra" and sprinkle salt on Foo Foo. I watched in horror as my Foo Foo melted into a sickening, greasy stain. I was inconsolable.
Foo Foo's cruel death had a profound effect on me. It awakened my compassion and sparked a belief in the sanctity of all life. I became a bug bouncer, gently escorting insects from my house. No slug was ever again killed with salt or drowned in beer on my watch. I grew into a shooer instead of a squisher. To this day, I'm still awfully fond of slugs.
They are so fascinating. Did you know that slugs are actually mollusks as well as hermaphrodites? Having both sex organs allows each slug to lay eggs. Beneficial to the environment, slugs process decaying plants, turning them back into soil. And much like us, they analyze data to make such decisions as what to eat, with whom to mate and how to avoid danger.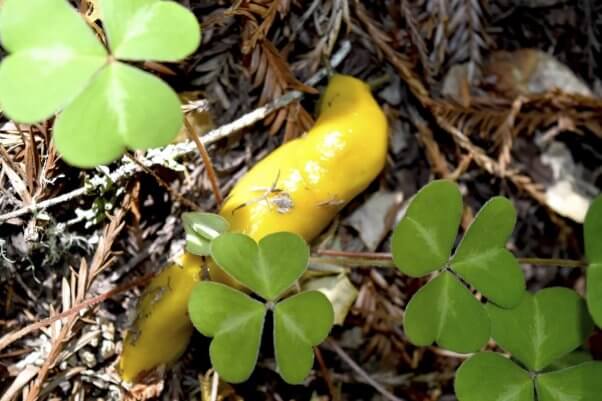 © iStock.com/21earlybird
They are also extremely active in the fall. So as autumn turns the trees into a riot of colors, we can expect to see four things: meteorologists overusing the word "brisk," pumpkin-flavored everything, slugs laying their eggs in gardens and insects entering houses to wait out the winter. The good news is that there's no need to resort to cruel methods to have a slug-free garden or an insect-free home.
Slugs are nocturnal and thrive in damp conditions, so refrain from watering your garden in the evening. This simple tactic alone can decrease slug damage by 80 percent. Installing granite rock around your garden and placing mint, lemon balm, pine needles, cosmos, sage or parsley in your garden will also deter any mollusks with the munchies.
If ants start moving into your house like they've rented it on Airbnb, find their point of entry and pour a line of cinnamon, red chili powder or paprika—they won't cross it. To prevent stink bugs from sneaking in, remove window air conditioners and apply weather stripping around doors and windows. Spiders hate citrus, so rub a lemon peel on door and window frames to deter them. Place catnip sachets or bay leaves on top of shelves and other high surfaces to keep cockroaches away.
Like all animals, slugs and other tiny beings who are perceived as "pests" suffer when they are poisoned, trapped, drowned or otherwise killed. As Alan Gelperin, a researcher who has studied the memory and learning abilities of slugs, says, "Before you step on a slug, or sprinkle the poison, pause and consider the creature's marvelous complexity and place in the scheme of things."
In the scheme of things, there is always a humane solution to any wildlife conflict. So let's save the salt for margaritas and the beer for football. And while you're at it, treat yourself to a pumpkin spice soy latte. It is fall, after all.
Amy Skylark Elizabeth is a senior writer for the PETA Foundation, 501 Front St., Norfolk, VA 23510; www.PETA.org.