Chelsea Handler is handling New York City's horse-drawn carriage problem by writing to Mayor Michael Bloomberg and asking him to support a proposal to replace the abused horses with vintage-replica electric cars, which she donated $15,000 to help build. "As if [the cars] weren't fabulous enough," she writes, "they also get a 10-12 hour drive on just one charge—even my vibrator doesn't do that."
The rescued dog guardian would be gleeful over Chris Colfer's new buddy. The Glee star tweeted, "I adopted a cat today from the West Valley Animal Shelter! His name is Brian, he's 8 years-old and 20 pounds! It was heartbreaking to see so many sweet animals needing homes. Please think about rescuing!" Go ahead and swoon.
And Lady Gaga now has two good romances in her life. The singer rescued a stray cat she named Polly and found her a home with Gaga's boyfriend Taylor Kinney of Vampire Diaries fame.
Not to be outdone, songbirds Garth Brooks and Trisha Yearwood have reportedly gone vegan. People who won lunch with the couple report that they both ordered vegan food and talked about their healthy new eating habits. Can we look for Garth's new ode to raw foods, Cooking Outside the Fire perhaps?
Fiery rapper Waka Flocka Flame continues his quest to enlighten the hip-hop community about animal issues, with an interview in this month's XXL magazine. "The campaign I did with PETA was 'Ink Over Mink.' I never been a mink person period. I hate minks. I hate furs," he told the magazine. "I wouldn't put that s*** on and that was way before PETA. … It's just somethin' I stood by. Plus, I like dogs—my new PETA ad is for dogs. That's just what I stand for as a man."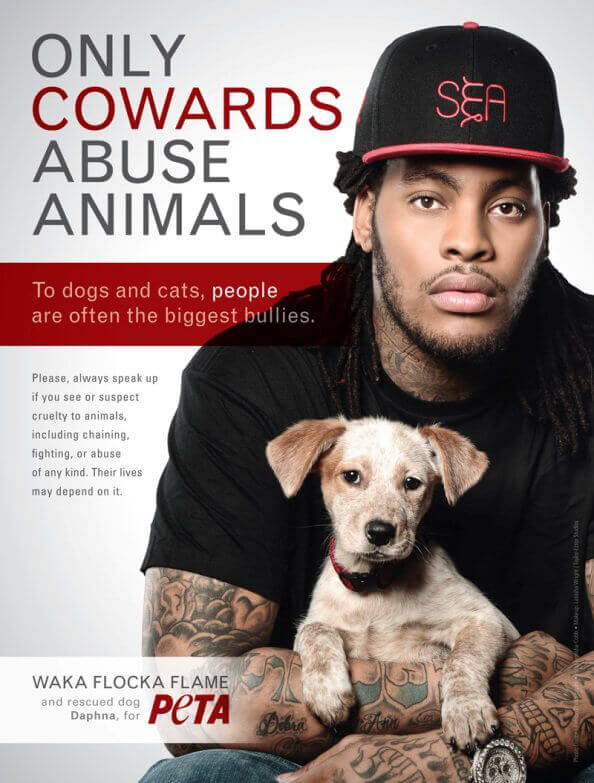 To keep up with what the stars are doing right now to help animals, follow @PETA on Twitter.