Lea Michele is no stranger to accolades, with Golden Globe and Emmy Award nods for her role on Glee. And today, Variety magazine is honoring Lea at its third annual Power of Women luncheon for her off-screen role working with PETA as a powerful advocate for animals.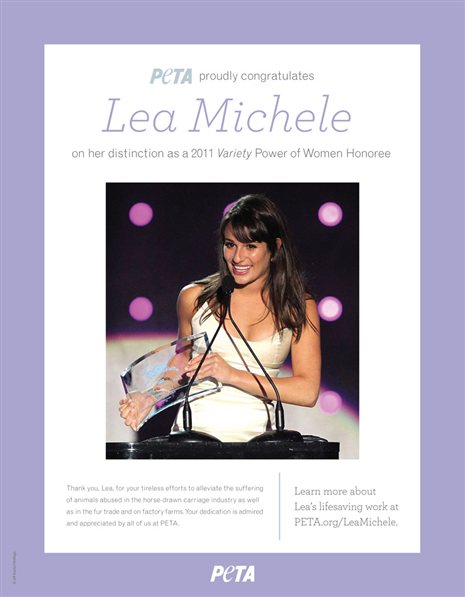 Lea Michele ©Jeff Kravitz/ FilmMagic
Thanks to Lea, PETA representatives will be there, too, putting our message in front of Variety's 450 guests with a booth where we will hand out vegetarian/vegan starter kits, "Glass Walls" DVDs, tote bags, and shirts.
We've been fans of Lea since back when she was conquering the Great White Way and speaking out about the unattractive side of New York—the cruel horse-drawn carriage industry.
Now that Glee has made Lea a household name, she always uses her celebrity status to promote animal rights—from denouncing fur to singing the praises of a vegan diet. Her Twitter feed is always alight with animal-friendly suggestions sent to her 1.1 million followers.
Congratulations, Lea. You inspire us to keep striving to save animals' lives every day.
Written by Michelle Kretzer