Because Harris Teeter supermarkets are still selling products from turkey supplier Plainville Farms, which PETA investigated, finding instances of severe cruelty—including sexual abuse—inflicted on turkeys, we've snatched up stock in Kroger, the parent company of Harris Teeter. The stock purchase will allow us to attend Kroger's annual meetings and pressure executives from the inside to reconsider Harris Teeter's relationship with Plainville Farms.
PETA's undercover investigation found that workers at Plainville Farms kicked and stomped on turkeys, including those who were sick, injured, and unable to walk. Workers tried and failed to break turkeys' necks and left them to convulse and die in agony. Instead of stopping this abuse, a supervisor kicked the birds as well and berated our investigator for not doing the same. Workers threw hens at one another as though it were a game. One worker pretended to masturbate with a dying bird, and another sat on and pretended to rape a different bird.
PETA's undercover video footage of workers routinely torturing turkeys at multiple Plainville Farms locations proves that the company's claims of "stress-free" and "comfortable" birds raised and killed for their flesh are outright lies and confirms again that there's no such thing as "humane meat." Turkeys were kicked, stomped on, punched, thrown, beaten, crammed into trucks, and slaughtered in painful, violent ways to supply meat to grocers. Consumers who care about suffering need to know that the only humane meal is a vegan one.
Harris Teeter is still selling turkeys from a supplier whose workers abused injured birds for fun. That's why PETA wants Kroger's top brass to reconsider the company's business relationship with Plainville Farms and is appealing to everyone who's against cruelty to animals not to be deceived by these meaningless labels and prevent more abuse by eating vegan.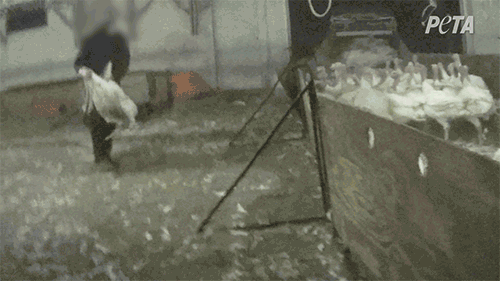 Whole Foods has already pulled Plainville Farms products from its shelves. Urge Harris Teeter and Wegmans to reconsider business relationships with companies whose workers treat animals so cruelly. You'll need only a minute to take action using your smartphone or laptop, so why wait? Get started now: