The overblown "Great Bull Run" isn't so great, according to the Los Angeles County Fire Department. Fire officials put the kibosh on the Running of the Bulls–style event that was scheduled to take place in Pomona, California, at the end of July, saying that the event "appears to violate reasonable public safety" standards. Even the event's organizer admits that "running with real bulls is dangerous."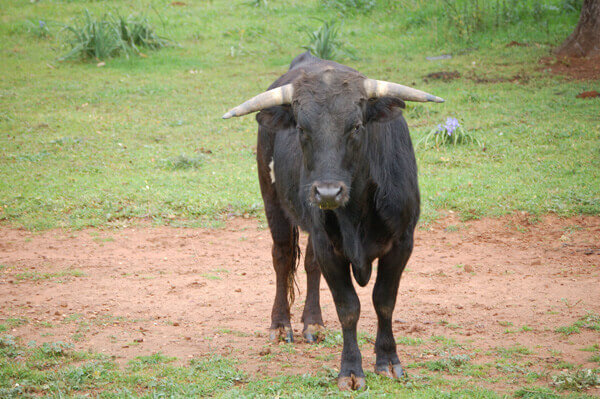 Great Bull Run events involve loading bulls onto trucks, potentially driving them thousands of miles, and herding them into a pen, after which they're chased by riders on horseback, forcing them to bolt in panic through a narrow chute filled with hundreds of screaming people. Along the way, the bulls would potentially have crashed into barriers, collided with and injured one another, or fallen and broken their legs or other parts of their bodies.
Bulls used in such events can also seriously injure runners and bystanders. Last week, a runner was hospitalized with a concussion and bruises after he was trampled during the Great Bull Run at the Alameda County Fairgrounds in California. Last year, two people were hospitalized, including a man who was trampled by a bull, following the Great Bull Run in Virginia. Another participant broke his pelvis in three places after being trampled during a bull run in Conyers, Georgia.
This marks the third time that the Great Bull Run has failed to secure the necessary permits. Bull runs were previously canceled in Lake Elsinore and Temecula, California, because local officials refused to issue permits out of concern for public health and safety. A venue in Minnesota also canceled plans to host a bull run, citing safety concerns.
PETA believes that these events may also violate cruelty-to-animals laws. This spring, PETA and the Animal Legal Defense Fund filed a lawsuit alleging that the events violate California's anti-cruelty law and Unfair Competition Law. It's against California law to cause any bull to fight with a human or to hold similar events.