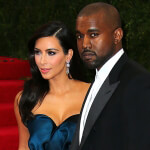 © StarMaxInc.com
At PETA, we are nothing if not optimistic, so on the eve of the Kimye nuptials, we sent Kanye West and Kim Kardashian a vegan gift in the hope that they'll share their enormous good fortune with animals—and maybe even be enticed to try vegan like Bey and Jay Z have. Hope springs eternal! The gorgeous gift basket that we sent includes faux foie gras (fitting, since they've been seen flitting about France), vegan caviar, Kite Hill vegan cheese, vegan wine, and a copy of PETA's The Compassionate Cook cookbook.
Hopefully, seeing how easy it is to enjoy cruelty-free luxury will inspire Kimye to make kindness to animals a part of their marriage.
Ready to say "I do" to a healthier, greener, and kinder way of eating? There's no need to wait for a special occasion—order your free vegan starter kit today!