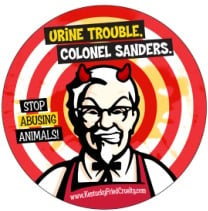 We at PETA like to say that cruelty is the secret ingredient in KFC's buckets (what, with chickens being tormented before they're killed and abused in other horrific ways). But it turns out that at one KFC, there was another secret ingredient: urine.
Yep, you read that right: Chicken was urinated on before being sold to a customer. Feeling peckish? (That's British for "hungry"—geddit?)
A Nebraska police officer and his family have won $40,000 from a KFC outlet that served them food tainted by an employee's spit and urine. The couple sued the offending company when their two sons, 4 and 7 at the time, became ill (one violently ill) after they ate the food. The younger boy vomited for hours and was hospitalized for gastroenteritis and dehydration.
The lawsuit also stated that "[e]mployees maintained 'special servings' of food reserved for … officers. The 'special servings' had been urinated in or spit in by KFC/Taco Bell employees. In fact, defendant's employees maintained a particular serving pan for use in creating 'special servings' of food plus employee urine."
Finger licking good? I'll pass.
Do you have a great KFC gross-out story you'd like to share? Want to share your feelings about the possibility of being served a side of urine with your KFC order? Tell us! One lucky commenter will be the first person on his or her block to have 20 of the gorgeous KFC stickers pictured here! Be sure to leave your comment by July 30, 2008, and we'll let you know whether you've won by August 1, 2008. You should also be sure to read the contest terms and conditions and PETA's privacy policy before you comment—you're acknowledging that you have read and agree to both by leaving a comment.
Posted by Grace Friedan