Last weekend, a flock of really "angry birds" showed that green pigs aren't the enemy—the Colonel is. The birds landed at a San Jose, California, KFC to make the point that the fast-food chain's suppliers use a cruel method of slaughter in which chickens have their throats cut while they're still conscious and millions of birds are scalded to death in defeathering tanks. When one passerby heard about this, she vowed never to eat at KFC again.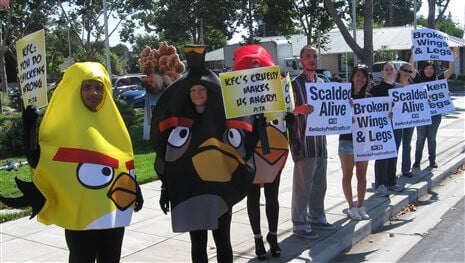 Because the voltage levels of electric stun tanks in U.S. slaughterhouses are kept at only a fraction of the level needed to render chickens insensible to pain, birds are usually paralyzed but still conscious when their throats are cut. Government studies show that birds feel pain after being shocked, even if they can't move. If the birds miss the mechanical cutting blade, they are alive when they are immersed in tanks of scalding-hot water intended to remove their feathers after they are dead.
Tell KFC that until it agrees to switch to the less cruel slaughter method that PETA is recommending—which is already in use in other slaughterhouses—it can take a flying leap.
Written by Michelle Sherrow