Aaron Jamison, the terminally ill Oregon man who approached his cancer with a wry sense of acceptance, has died. He left the world with grace, humor, and purpose.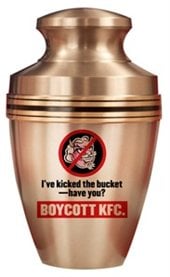 © iStockphoto.com/ Dan Tobin
When PETA learned last year that Aaron wanted to sell advertisements on his urns in order to reduce the financial burden on his wife, Kristin, we offered to buy two ads, and Aaron, who had a wonderful sense of humor in addition to being a kind and practical man, accepted our offer. One of the ads we suggested reads, "I've Kicked the Bucket—Have You? Boycott KFC." We explained to Aaron that KFC's suppliers cram the birds slated to end up in all those buckets into huge sheds, where they live amid their own waste and are bred and drugged to grow such unnaturally large upper bodies that their legs often become crippled under the weight. We informed him that many birds suffer broken bones when slammed into shackles at the slaughterhouse before their throats are cut. Yet the company refuses to adopt the common-sense improvements recommended by its own animal welfare advisors.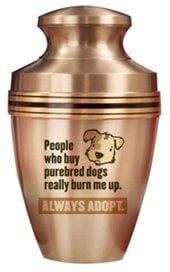 © iStockphoto.com/ Dan Tobin
Aaron was also an advocate of adopting homeless, mixed-breed dogs and cats from shelters. He wrote on his blog, Judas Forgiven, about the importance of donating to shelters and the joy that his beautiful dog, Belle, brought into his life. Since PETA shared Aaron's concern that every puppy or kitten born means one home fewer for dogs and cats desperately waiting in a shelter or roaming the streets, PETA's other urn ad reads, "People Who Buy Purebred Dogs Really Burn Me Up. Always Adopt."
We ask everyone who knew Aaron or was influenced by this kind man to honor him by "choosing joy," as he put it, and by doing everything that we can to allow animals—who are capable of experiencing such unfettered happiness—to choose joy too.