Will corrupt trainers be brazen enough to cheat in the Kentucky Derby? PETA is warning bettors to hold all tickets after the races conclude, as they may be able to sue if trainers illegally drug horses.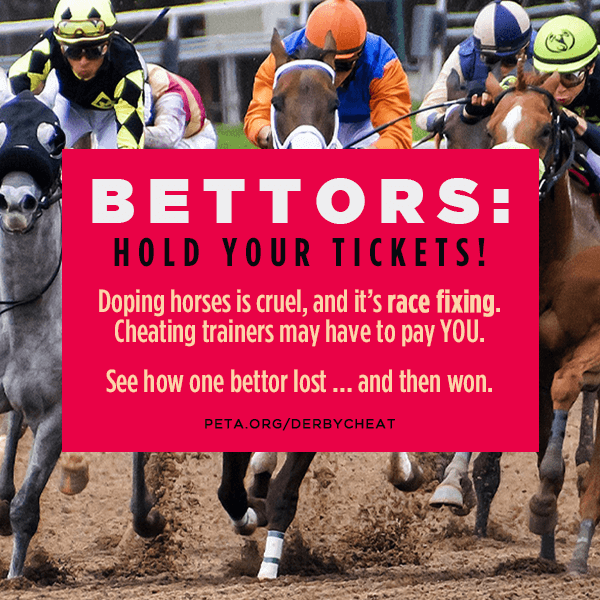 This caution follows the $20,000 settlement in a first-of-its-kind, PETA-supported lawsuit brought by a bettor against a horse trainer and an owner for illegally doping a horse before a harness race. Illegal doping and the overuse of medication frequently lead to injury and death.
The winner of the lawsuit, bettor Jeff Tretter, noted that the horse involved was a victim, too—so he donated $7,500 of the settlement to the nonprofit New Vocations Racehorse Adoption Program, which rescues horses and provides them with a safe haven, rehabilitation, and placement with experienced, caring guardians.
PETA is placing ads on the websites of the Las Vegas Review-Journal, Louisville's Courier-Journal and WLKY.com, and the Lexington Herald Leader to alert Kentucky Derby bettors that they, too, can sue if they're cheated out of rightful winnings by trainers who have illegally drugged horses.
Cheating trainers and owners at the Kentucky Derby, be warned.
Tretter alleged that trainer Robert Bresnahan Jr. and owner J.L. Sadowsky LLC illegally influenced the outcome of a January 2016 race at the Meadowlands track by doping the horse Tag Up and Go, unbeknownst to bettors. The long shot went on to win the race but subsequently tested positive for the banned substance erythropoietin, which stimulates red blood cell production, thereby increasing the blood's oxygen-carrying capacity.
PETA notes that last year's Kentucky Derby winner, Maximum Security, was disqualified for interference. Later, his trainer, Jason Servis—along with 26 others—was indicted for drugging horses.
Trainer Bob Baffert—who has horses scheduled to run in this year's derby—recently had disqualifications after two of his horses failed post-race drug tests. Just last week, the California Horse Racing Board announced that it would pursue disqualification of the Baffert-trained Thoroughbred Justify, who tested positive for a banned substance in the 2018 Santa Anita Derby. Justify's win in this race qualified him to run in the Kentucky Derby and thus enabled his Triple Crown victory, something that should not have happened.
You can help get drugs out of horse racing by taking action now!
Horses can learn symbols and use them to communicate, and they get visibly excited about their newfound skills. They feel joy, pain, and fear, just as we do. These complex individuals would never choose to run themselves to death for human entertainment.
On average, more than three horses die every day on racetracks in the U.S. Please use PETA's action form to urge your U.S. representative to support the Horseracing Integrity Act, which would impose stricter regulations on drug use in racing and help protect these animals from abuse: