PETA and the American Civil Liberties Union (ACLU) Foundation of San Diego & Imperial Counties have filed a lawsuit against the San Diego International Airport for refusing to run PETA's new anti-SeaWorld ad starring actor and San Diego native Kathy Najimy.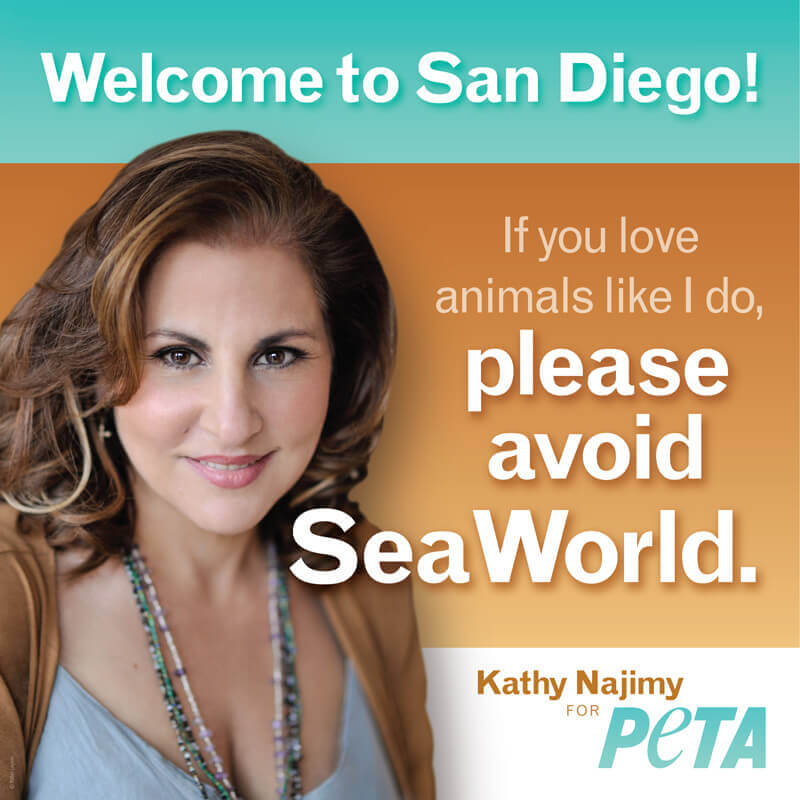 Photo by Robin Layton
Even though the airport's advertising vendor welcomes ads from other nonprofits—and from SeaWorld itself—it has refused PETA's $17,500 to place Kathy's ad because of the anti-SeaWorld message. "The First Amendment stands to protect against this kind of viewpoint discrimination," says ACLU senior staff attorney Sean Riordan, explaining his organization's involvement in the case.
Kathy wants the thousands of tourists who arrive each day at the San Diego airport to shun the notorious marine abusement park and choose animal-friendly outings instead. In the oceans where they belong, orcas travel up to 100 miles per day, but SeaWorld confines these intelligent, social animals to virtual bathtubs. Orcas at SeaWorld break their teeth and endure chronic pain from snapping and gnawing at the pool gates as a result of stress. It's little wonder that so many die far short of their natural life expectancy: At least 25 orcas have died in SeaWorld facilities since 1986, and not one died of old age.
"When I was growing up in San Diego, we didn't know better and our folks took us to SeaWorld," says Kathy. "We were blind to the reality that these gorgeous creatures were being abused and belong in their natural habitat."
You Can Make a Difference
Please take a moment to ask SeaWorld officials to start moving captive orcas and other animals imprisoned in its facilities to coastal sanctuaries that can provide them with a more natural environment.