When PETA Latino teams up with local animal shelters in Cancún to host spay/neuter clinics for the community, we not only sterilize hundreds of companion animals but also find ways to help other animals in the area. We deliver doghouses to local canines forced to live outside; provide dogs in need with medication and preventive treatments; hand out bags of puppy, dog, and cat food in the local area; and in cases like Kal and Abigail's, totally change lives. Watch how these chained dogs were rescued in Cancún:
Life on a Tether: Kal and Abigail Were Suffering
While helping animals in one of the many underserved neighborhoods of Cancún with local rescuer Karin Jacobsmeier of Paws in Action Cancun, we were alerted by a resident to several thin dogs at a nearby house. We investigated immediately and found Kal and Abigail chained up and unable to move more than a couple of feet. Both dogs were emaciated, and Abigail was almost totally hairless.
The dogs' owner was dismissive of their horrendous condition and refused to surrender them. PETA Latino staff contacted local animal shelter Dirección de Protección y Bienestar Animal, and shelter staff returned to the residence the next day with local law enforcement. Kal and Abigail were seized and brought to the shelter.
Kal tested positive for heartworm, and Abigail was emaciated and suffering from mange. Karin returned for the dogs after their examination and took them in as fosters. Finally, after a year of lots of TLC and veterinary care, both dogs have recovered from the ailments and neglect they endured and are available for adoption through Paws in Action Cancun.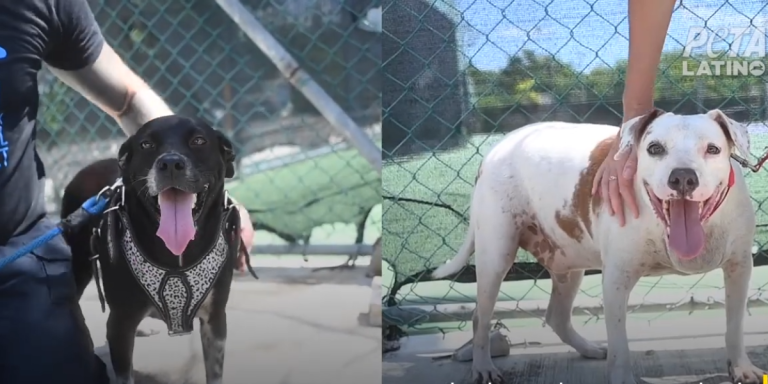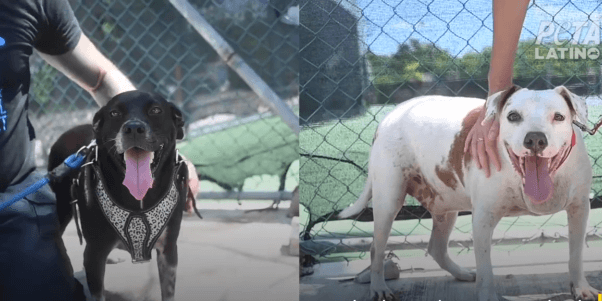 What to Do If You See a 'Backyard Dog' in Danger
If the local resident hadn't sought us out to report Kal and Abigail's plight, we never would have known they were there. Thanks to her, these dogs were able to survive and experience the love, care, and respect they deserve. If you see an animal being mistreated or suffering, say something—their well-being, if not their life, could depend on it.
Dogs should never be left outside unattended, but when they're outside and deprived of access to food, water, or shelter, the situation is an emergency and local authorities should be contacted immediately. If they're unresponsive, contact PETA for help. If you see a chained dog in your area whose situation isn't an emergency, follow PETA's tips to help chained dogs.
Help Us Help Animals: Support the Global Compassion Fund
So far in 2023, PETA Latino has sponsored four free spay/neuter clinics in Cancún and sterilized more than 1,000 animals. Temporary sterilization clinics like PETA Latino's in Cancún help reduce the suffering of animals for generations, as fewer unsterilized dogs and cats means fewer animals born into communities that don't have the resources to care for them. You can help vital programs like this change the lives of homeless and vulnerable animals by giving to PETA's Global Compassion Fund today: