As the Iowa State Fair kicks off this month in Des Moines, PETA is serving up some food for thought in the capital of the country's top pork-producing state with ads affirming that animals are much more than the sum of their parts.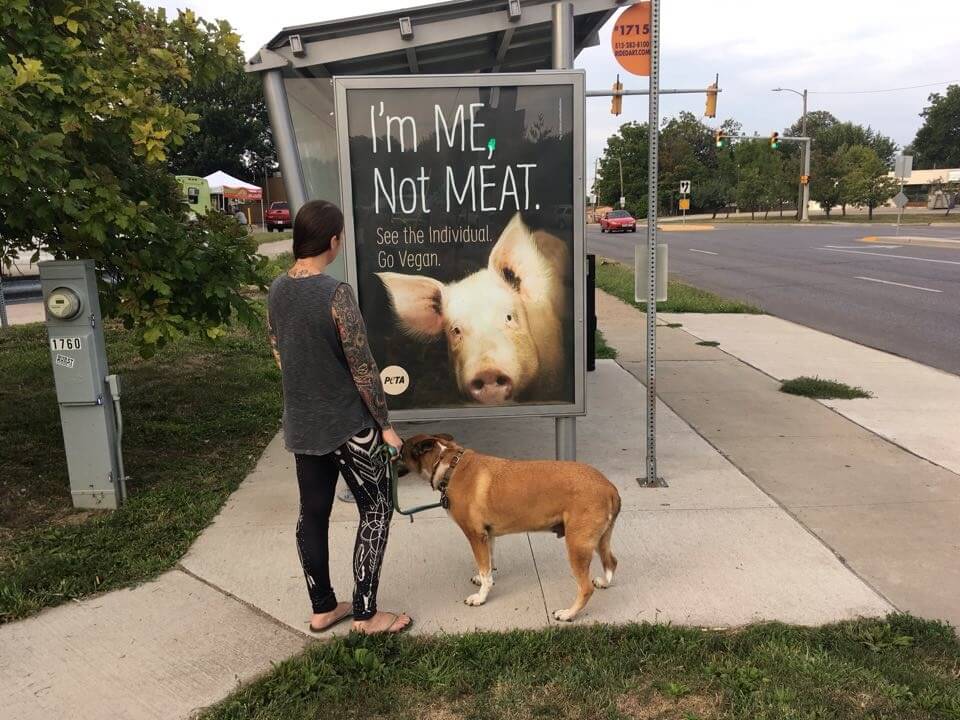 Attracting over a million visitors from all around the world, the Iowa State Fair is one of America's oldest and largest agricultural and industrial expositions. And on buses and bus shelters throughout the city, people can view our ad, which shows a pig's face next to the words "I'm ME, Not MEAT. See the Individual. Go Vegan."
Just like humans, pigs are made of flesh and blood, feel pain and fear, have unique personalities, and value their own lives.
In the industrialized meat industry, mother pigs are squeezed into narrow metal stalls barely larger than their bodies and kept almost constantly pregnant or nursing. Pigs' tails are chopped off, their teeth are cut with pliers, and males are castrated—all without any painkillers.
At slaughterhouses, they're hung upside down and bled to death, often while still conscious.
'You Gotta Beat on the Bitch. Make Her Cry.'
Since 2012, Iowa's "ag-gag" law has criminalized exposure of cruelty to animals in the meat industry. Before that law was passed, a PETA eyewitness exposé inside an Iowa Hormel supplier documented that workers beat pigs with metal rods, jabbed clothespins into pigs' eyes, and even sexually abused a pig with a cane.
Local law enforcement used PETA's video evidence to file 22 charges of neglect and abuse, leading to Iowa's first convictions for such offenses against pigs.
You Wouldn't Eat Your Dog, Would You?
Just like the dogs and cats we consider family, pigs are loyal and sociable. They like to cuddle, snuggle up, and play-fight. And just like our animal companions, they don't want to die.
The best way to show all animals some real respect is to stop eating them. Go vegan today— we'll help!