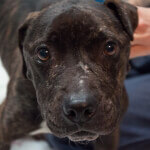 Michael Vick may have thought that people were starting to forget about his 19-month stint in prison on dogfighting charges, but judging by the reaction of fans to his trade to the New York Jets last week, people who care about animals have long memories.
Not once during any of Michael Vick's carefully orchestrated interviews since his release from prison has he ever shown any emotion or remorse over the torture that he inflicted on the dozens of dogs he forced to fight to their deaths. In fact, he lied to PETA President Ingrid E. Newkirk's face about how much he "loved" his "family pets" before it was later revealed in government documents that he took delight in tossing those same "pets" into the pits with fighting dogs and laughed as he watched them being torn apart. His only regret, when pressed by a reporter after saying "None," was that he'd had to serve so much jail time!
Now that fans are howling with outrage—one protest petition has more than 5,300 signatures so far—the Jets' front office may soon have some regrets of its own.
PETA member Cary Mabley is one person who will never forget that Vick admitted to drowning, electrocuting, and hanging dogs, among other atrocities. When the lifelong New York Jets fan learned that Vick had been traded to her favorite team, she wasn't about to sit on the sidelines and do nothing.
"My family and I were so outraged when the Jets signed Michael Vick that we immediately canceled our season tickets," says Cary. "I am going to do whatever I can to let the Jets organization know that they have made a huge mistake by signing this dog killer."