A longtime Janet Jackson fan is leaving the Rhythm Nation after Jackson had a wardrobe malfunction worse than her infamous Super Bowl halftime appearance. After PETA supporter Sean Oltersdorf learned that Jackson was appearing in ad campaigns for Blackglama furs, he put his 25-year collection of Janet memorabilia on the auction block, with 100 percent of the proceeds going to PETA.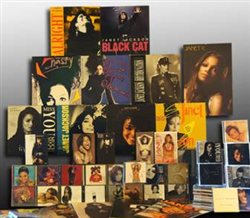 On his eBay site, "Janet Jackson: Better NAKED Than Nasty," Oltersdorf explained his decision to bidders:
"Janet has decided to partner with fur designer Blackglama and put her name on a line of mink pelts. As the guardian to six rescued animals (three of whom are chinchillas, who [on fur farms] are bred in deplorable conditions and often skinned alive for their beautiful fur), I can't—in good conscience—simultaneously support this kind of cruel ambition while having a care for those without a voice. I am responding with my own partnership with PETA and auctioning my entire Janet Jackson collection (over 60 items) and donating 100% of the proceeds to PETA."
Perhaps the best part of Oltersdorf's auction page is the picture he posted of his chinchillas with the caption "Janet, what have you done for US lately?" People who think Jackson should stick to making music—not hawking cruel clothing—can bid on the collection until December 9.