Relief is in sight for Tony, a tiger who has lived in a cage in the parking lot of the Tiger Truck Stop, a gas station in Louisiana, for more than a decade. An East Baton Rouge District Court granted the Animal Legal Defense Fund's request for a permanent injunction against the Louisiana Department of Wildlife and Fisheries, preventing the agency from renewing the annual permit that allows the Tiger Truck Stop to display Tony. When the current permit expires in December, Tony will have to be moved—hopefully to a sanctuary—which PETA has been urging the station's owner to do for many years.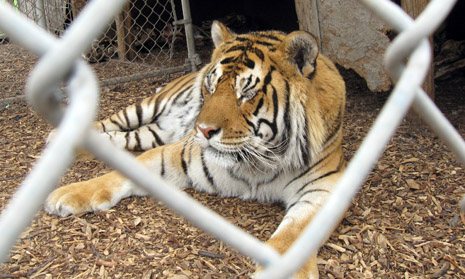 And the U.S. Department of Agriculture (USDA) has revoked the license of exhibitor Jamie Palazzo, who hauled tigers and other wild cats around in the country to fairs and shopping malls. PETA has filed many complaints against Palazzo's "Great Cat Adventures" for allowing the public to hold and have their photo taken with large, dangerous tigers. USDA inspectors repeatedly cited Palazzo's outfit for this violation, noting, "The cat being exhibited was too big, fast, and dangerous to be exhibited in a manner that allowed the public to be close to the juvenile [cat] without a sufficient barrier …" and "Cubs this large are too dangerous for direct public contact."
Tigers belong in the jungle, not crammed into transport trucks and small cages. Roadside zoos and traveling shows only stay in business because people buy tickets. Don't ever pay to have your photo taken with a tiger cub, and don't patronize a roadside zoo.

Written by Jennifer O'Connor