Harry Morton, owner of popular Mexican eatery Pink Taco, had reason to be pink in the face following the public outrage generated over the restaurant's decision to paint a donkey pink and tie her to the sign of his establishment at a busy shopping mall for hours in the blazing Los Angeles heat as part of a Cinco de Mayo marketing promo. PETA compadres including Pink, Stephanie Pratt, Lo Bosworth, and Lea Michele tweeted their disgust at the restaurant's promotion. PETA immediately wrote to Morton, reminding him of a pledge that he made to PETA back in 2008, when he used the same stunt at the restaurant's opening.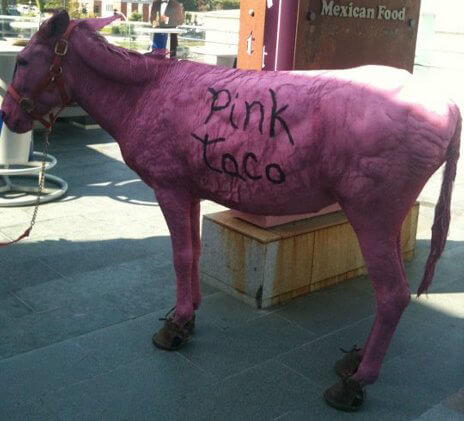 Photo courtesy of Ben Decker.
PETA has received the following statement from Morton, reaffirming his pledge never to use animals in promotions again:  "…Pink Taco has agreed not to use animals at our events and promotions and we are looking forward to…discussing how we can work together in the future."
We hope that this time his pledge is sincere. The message that nobody accepts animal exploitation has been made loud and clear thanks to PETA's awesome supporters who acted quickly and gave a voice to Pinky the donkey. Together, we make a difference!
Written by Michelle Kretzer