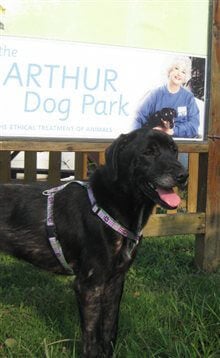 As people ventured out after the hurricane, they started to find vulnerable animals who had fallen from trees or hunkered down to hide when the hurricane hit. Full-time animal-rescue work continues, even as the heavy metal canisters that floated into our parking lot while our street was masquerading as a river were taken away by men on forklifts and volunteers worked alongside our Operations crew to clear up all the fiberglass, plaster board, metal pipes, and whatever else had been blown out from the underside of our building, leaving it all exposed. We worked, too, to get our Bea Arthur dog park cleaned up for canine visitors, but our beautiful, solid (well, it used to be solid!) dog deck buckled and was uprooted and shredded—and, unfortunately, it's too pricy to replace. But here's Mr. Jones, the dog who wandered into a fire department at the tail end of the storm, all decked out in his new harness, inspecting the dog park before going back to the vet. Thank you to everyone who has been asking about these dogs―being so old and confused, Mr. Jones touched a lot of hearts.
All day Sunday, the emergency pager went off. At the crack of dawn, we took in a dying kitten who had been picked up by a kind ambulance crew; then came two wild bunny babies suffering from exposure and starvation, followed by calls for help with baby squirrels, most of them found on the ground and badly injured. Seeing those tree branches shake and twist most of Saturday and into the night, it was clear that the local squirrel nation was going to suffer some major casualties. We picked baby squirrels up out of puddles left by the massive pounding of rain, many of them drowned, some on their way out of this life. I will spare you the sad pictures. There were some bright spots, as there always are in search and rescue: Here are two photos.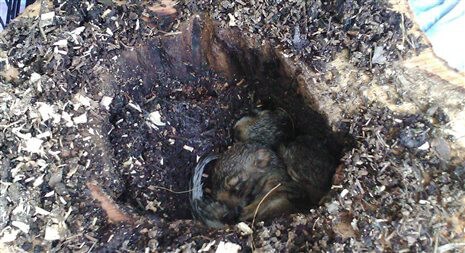 In the first one, these three very cold, hungry, wet baby squirrels were found hidden inside the hollow trunk of a tree by a man who had begun cutting it up because it had fallen onto his house. It had obviously been their home, but it had come crashing to the earth in the storm (our soil is quite sandy and roots are often shallow). A long wait and watch ensued but no mother was found, so the squirrel babies are now being fed by bottle. PETA spay/neuter clinic fleet manager Cindy Emmanuel is still without power, but that didn't stop her from feeding baby squirrels who were found in a wildly swaying hanging plant squirrel formula all weekend, then getting the basket hung back up again. Fortunately, their mother came racing back to them!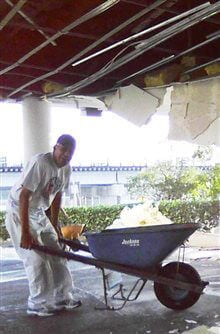 The other photograph is of Victor, who came to us from El Salvador 25 years ago this month and hasn't stopped working since. He thought cleaning up the debris that fell off our building would be a good way to celebrate his anniversary—what a great guy! You can help too. Please consider making a donation that will help with our rescue efforts after Hurricane Irene and beyond.
Written by Ingrid E. Newkirk