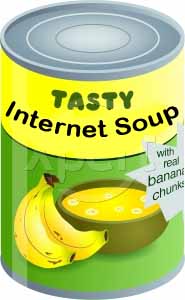 Yes, yes, y'all. It's soup time. By which I mean, it's Friday afternoon, and I've more or less run out of coherent things to say and am reduced to starting units of thought with phrases like "Yes, yes, y'all". For which I apologize from the bottom of my heart.
But back to the task at hand. I'd like to offer you my personal guarantee that all of the links below have been given the official PETA Files Seal of Approval. This means that every video, article, or other webpage contained therein has at some point or other been deemed by me or someone I know to be at least mildly interesting, amusing, or otherwise edifying. Or, translated into plain English, "Click at your own risk." Here goes:
Thank you, Stephen O'Brien. And with that, this week's edition of Internet Soup comes to an end. For those of you who are still casting about for utterly inane things to do on the Web, perhaps you'd like to join my ill-fated and ill-thought-out campaign to save the subjunctive. Any takers?
-Jack